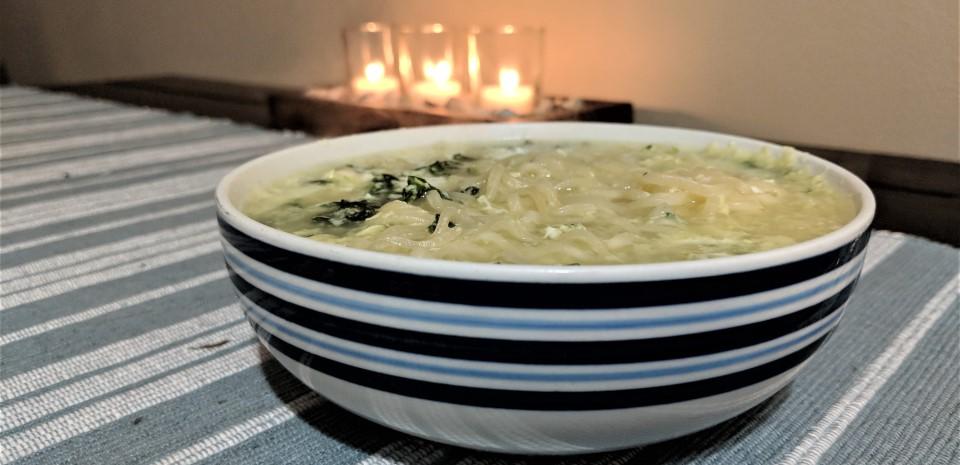 10 Ways to Up Your Ramen Noodle Game
It's back to school season for most college students now, and many college traditions are about to begin. Tailgating at football games, drinking on Thirsty Thursdays, pulling all nighters in the library, and of course - eating ramen noodles. Ramen noodles can be bought for a ridiculously low price in most stores, and they're popular among college students who need to save their money for textbooks, calculators, alcohol, and so on. Ramen is good in itself, but it's completely possible to make ramen a gourmet meal in your very own home. Here are ten ways on how to make ramen a delicious meal on a budget.
1. Breakfast Ramen
Chances are, the dining courts close before you want to get out of bed. Or maybe you don't live in the dorm so your typical breakfast is just coffee. However, people aren't lying when they say breakfast is the most important meal of the day. It's better to eat something in the morning than nothing, so why not make some ramen and throw in an egg! 
Chop up a hard boiled egg and throw it into your ramen mix. This will add just a bit of flavor. You don't even have to boil eggs by yourself, you can buy them hard boiled already! This works great with the microwavable ramen noodles for when you're on the go. However, if you have a bit of time, cook your ramen on the stove and crack an egg into it. This is a pretty popular way of upping your ramen already, so many people can attest to it. Throw in some chopped onions, spinach, cheese, and whatever other toppings you would put in an omelette, and your breakfast is ready in no time!
2. Pho Ramen
Pho is a Vietnamese soup consisting of broth, rice noodles, herbs, and meat - so with ramen, you're kind of halfway there! You have your broth, your noodles, the herbs and spices of your choice. All you need are thinly sliced pieces of beef or chicken if you prefer. 
When cooking your ramen, add in a pinch of fish sauce and a handful of bean sprouts for a more authentic and delicious flavor. When you add the beef slices, luckily they should be able to cook in the broth as you cook your noodles. Now you can enjoy this popular Vietnamese street food in your own home!
3. Peanut Butter Ramen
We know what you're thinking, but this is not nearly as gross as it sounds. Ramen already goes great with peanut sauce, and have you ever had peanut butter chicken? Peanut butter surprisingly goes well with a lot of savory, meaty foods. If you ever visit West Lafayette, Indiana, be sure to stop by the Triple XXX restaurant and get their famous Duane Purvis burger, which is known for having peanut butter on it (and then stop by our coffee shop a few minutes away)! 
In order to make peanut butter ramen, it's pretty simple. Add a dollop of peanut butter to your ramen, and then a few drops of worcestershire sauce. The measurements are lenient and forgiving, so if you want more peanut butter then add another dollop. Worcestershire sauce goes a long way, but always feel free to add a few more drops! This creates a yummy sweet and savory taste to your ramen. 
4. Masala Ramen
For some college students, the first time they indulge in Indian cuisine is while in college. On the flip side, many students find themselves deprived of Indian cuisine on a regular basis, unless they eat out every night or a dining court happens to have a selection. Luckily, it doesn't require a lot of make masala ramen.
Spices are of your choice, but what you for sure need is chaat masala and garam masala, which can often be bought at a grocery store near you. A little bit goes a long way, so as you make your ramen with a little bit of olive oil, garlic, and onion, add a teaspoon of chaat masala and garam masala. Mix it all together in your pot, and you'll have a delicious meal in no time!
5. Italian Ramen
Ramen is typically more soupy than noodley, so for the Italian style you'll want it to be more pasta like. Cook the ramen the way you normally would, but then separate the noodles from the broth. You can save the broth for a different recipe later! Mix in alfredo sauce, spinach, oregano, parmesan, and a little bit of that broth you just cooked. If you want, you can even cook some chicken and throw it into the mix! If you're making the microwavable noodles, just pour in a little alfredo gradually to let it melt in with the noodle, and then, of course, a sprinkling of parmesan! 
6. Vegan Ramen
In this day and age, more and more people are trying vegan meals. Even if they're not 100% vegan, a lot of college students are going meatless on Mondays or are freegan (vegan unless food is free). Sometimes it's hard to find ways to afford a vegan lifestyle, but luckily for vegans, the ramen noodles themselves are vegan (and cheap!).
The spice packets ramen typically comes with are not vegan, so you can save those or give them to your non-vegan friends. Swap out the spice packets for your favorite vegan spices, whether you're an onion powder person or a cumin fanatic, any spices will do. While your noodles are cooking, cook tempeh in a frying pan and season it how you like as well. Tempeh is a delicious alternative to meat, and has a rich flavor and body to it that will go great in your noodles. If you're not sure about the tempeh, you can buy vegan beef or chicken at most supermarkets, and try throwing that in instead.
7. Spam & Pineapple Ramen
We're not going to call this Hawaiian Ramen because chances are anyone from Hawaii would not consider this a fun take on Hawaiian cuisine. Instead, this is simply a Hawaiian influenced take on ramen, that ends up being quite delicious!
All you need to do is fry spam and a sunny-side up egg in a pan, then cook some pineapple as you cook your noodles. It does sound bizarre, but spam and pineapple taste amazing together. When you're done, you can add some barbecue sauce for more flavor too. Surprise yourself with this delicious meal!
8. Chili Ramen
While some people are adamant that spaghetti and chili don't go together, the combo is very popular in the Midwest (Skyline chili anyone?). Luckily for college students, this an incredibly easy meal to make too. Cook your ramen without the spice packet and drain when done (or use the spice packet if you really want). You can buy a can of chili for a very low price at most grocery stores, and you can even save half the can for some chili dogs at a later time. Cook the chili in a pot, and then add on top of the ramen. Add some shredded cheese, and then of course add some delicious oyster crackers.
9. Cheesy Ramen
This is by far the easiest take on ramen. We recommend using a cheese sauce for this one, but if you're really low on groceries some simple shredded cheese will do, too. Take a slice of velveeta cheese and a half cup of milk, substituting a half cup of the water on the ramen instructions for the milk. Mix it in with the ramen, and the cheesiness will add some extra deliciousness. If you really want a fun take, cook the ramen like normal, and then put it on a baking sheet covered in aluminum foil, and broil it with the cheese in the oven for just a couple of minutes. This will give you more of a macaroni texture.
10. Ramen Pizza
If you can use ramen to fix a sink, you can easily turn ramen into pizza. This is probably the one recipe that requires the most work. All of our other recipes could easily be cooked in a frying pan or a pot, and you can usually wing it with all of the other recipes. Since this one is more complex, we'll give it to you in an actual recipe style.
Ingredients
1 1/2 cups shredded mozzarella cheese
2 tablespoons oil
1 cup jarred pizza or spaghetti sauce
1/2 cup mini pepperoni slices
3 tablespoons finely chopped red onion
2 tablespoons grated Parmesan cheese
Directions
Preheat oven to 425°F. Cook noodles as instructed on package. Gently separate noodles with fork while boiling. Drain well. Toss noodles with 1/2 cup of the mozzarella cheese in a bowl.
Heat oil in large ovenproof nonstick skillet on medium-high heat. Add noodles. Pat noodles down with spatula to form an even layer that covers the bottom of the skillet. Cook 2 minutes or until lightly brown on the bottom. Remove from heat.
Spread sauce on noodles. Sprinkle with remaining 1 cup cheese, pepperoni and onion.
Bake 15 to 20 minutes or until cheese is melted and sauce is hot. Remove from oven. Sprinkle with Parmesan cheese. Carefully remove pizza from skillet and place on large cutting board. Slice and serve.
If you find yourself loving this cooking-for-yourself thing, then you'll want the best kitchenware to cook with. Treat yourself to an ICON skillet or a Le Creuset Stainless Steel Saucepan to cook your noodles in. When your birthday, Christmas, Hanukkah, or what have you come around, be sure to hit up your parents, too!
If you take a stab at any of these recipes, let us know! Tag us on Instagram or Twitter to share how these recipes turned out, and follow us for more recipes and cooking hacks. Have a great school year!