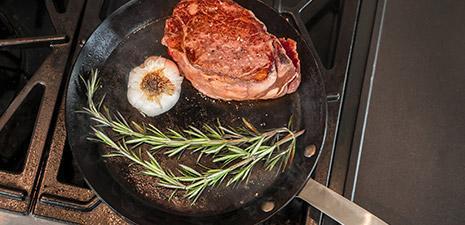 What is ICON Cookware?
Cooking with cast iron has been around for centuries. They're durable, can retain heat for hours, and they create excellent flavor. However, cast iron tends to be heavier and additional care maintenance. Is there a good alternative to cast iron? Of course! Meet ICON, an innovative carbon steel cookware line that meets all of the criteria. ICON pans showcase quality and durability, and produce delicious meals with a chemical-free surface! It's a new type of carbon steel cookware designed to last a lifetime!
How is ICON Made?
Every ICON pan begins with a 2.5mm thick piece of steel; this helps with balancing weight, even heat distribution and thermal durability.
Once the steel blanks are formed into the pan's shape, each pan is machined to remove all impurities and to create a smooth surface.
Next, the pans are put through a patented metallurgical process called NITROSEAL™ Technology. This process occurs in a gaseous 1000 degree F atmosphere for several hours. This produces a new surface compound that consists of Iron, Carbon, Oxygen, and Nitrogen. There are no chemicals used!
NITROSEAL™ Technology produces a surface that is 9-times harder than steel, is rust-proof, and will not peel or react with acidic foods.
ICON pans are pre-seasoned using a thin coating of vegetable oil that's baked on - creating a surface that is very easy to clean! Check out our step-by-step video to learn how to season your ICON pan.
All ICON handles are connected with special alloy stainless rivets which are tightened with each heat cycle. The handles are made of cast stainless steel, which prevents the handle heating up while you cook.
The Benefits of ICON
ICON's patented NIRTOSEAL™ Technology process produces a durable pan that offers the same benefits of cooking with cast iron, but with very low maintenance care.
98% iron core for high-heat retention and even heat distribution
Safe in temperatures up to 800 degrees F
30% lighter than traditional cast iron
Chemical-free surface
Easy to clean
Rust-proof
Will not scratch cooktops
If you're looking for a high-quality, one-of-a-kind pan for your kitchen, consider ICON! Not only do we love its wonderful cooking properties, but they're also engineered to last a lifetime. ICON pans are available as a skillet of multiple sizes, as well as specialty pans like the crepe/steak pan, sauté pan, and more. Discover all that ICON cookware has to offer. ICON Cookware is also available on Amazon.
About J.L. Hufford - Discover Gourmet
For over 25 years, J.L. Hufford has become a premier retailer of gourmet coffee, tea, cookware, cutlery, and kitchen appliances. We strive as a company to serve our customers not only through providing quality products but also with exceptional customer service. At J.L. Hufford, we believe it's all about taste. We are passionate about helping professional and home chefs alike find the perfect addition to their kitchen; a product that enhances flavors and helps them enjoy their culinary creation!