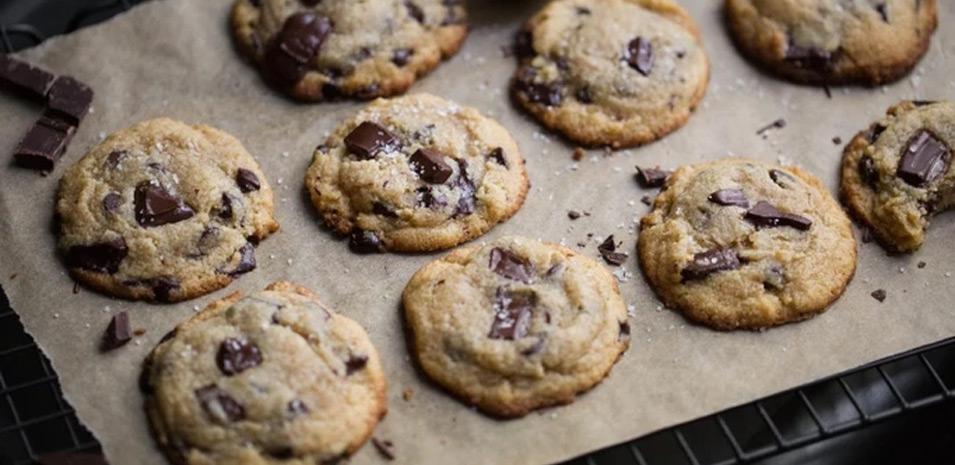 Happy National Chocolate Chip Cookie Day!
Happy National Chocolate Chip Cookie Day!
The classic chocolate chip cookie is turning 81-years-old this year. It was originally invented in 1938 by Ruth Graves Wakefield, when she owned the Toll House Inn, which was famous for serving home cooking to its guests. Many people falsely claim that she made the cookie by accident, that Wakefield was trying to make chocolate cookies. However, this experienced cook was deliberately trying to make the chocolate chip cookie to "give them something different." Thus the "Toll House Chocolate Crunch Cookie" was invented.
The Toll House cookie gained its popularity in WWII. Soldiers from Massachusetts that were stationed overseas received chocolate chip cookies in their care packages, and after sharing with their fellows comrades, the requests for more chocolate chip cookies in their own care packages flooded Wakefield's mailbox. The nationwide craze for these "chocolate crunch cookies" took the country by storm.
Today, every bag Nestlé chocolate chips has a variation of the original Toll House cookie recipe on it. The original recipe for the original cookie is as follows:
1 1/2 cups (350 mL) shortening

1 1/8 cups (265 mL) sugar
1 1/8 cups (265 mL) brown sugar
3 eggs
1 1/2 teaspoon (7.5 g) salt
3 1/8 cups (750 mL) of flour
1 1/2 teaspoon (7.5 g) hot water
1 1/2 teaspoon (7.5 g) baking soda
1 1/2 teaspoon (7.5 g) vanilla
chocolate chips
In the original recipe, the chocolate chips were "2 bars of Nestlé's yellow label chocolate, semi-sweet, which has been cut in pieces the size of a pea."
For the recipe we used for our cookies, we added just a few little changes, but feel free to try out either recipe on your own! Our recipe was:
Ingredients
2 1/4 cups all-purpose flour
1 teaspoon baking soda
1 teaspoon salt
1 cup (2 sticks) butter, softened
3/4 cup granulated sugar
3/4 cup packed brown sugar
1 tablespoon vanilla extract
2 large eggs
2 cups (12-oz. pkg.) chocolate morsels
Directions
PREHEAT oven to 375° F
COMBINE flour, baking soda and salt in small bowl. Beat butter, granulated sugar, brown sugar and vanilla extract in large mixer bowl until creamy. Add eggs, one at a time, beating well after each addition. Gradually beat in flour mixture. Stir in morsels and nuts. Drop by rounded tablespoon onto ungreased baking sheets.
BAKE for 9 to 11 minutes or until golden brown. Cool on baking sheets for 2 minutes; remove to wire racks to cool completely.
National Chocolate Chip Cookie Day falls on August 4th every year. In the past, it had fallen on various other days, and it is not entirely transparent as to how august 4th became National Chocolate Chip Cookie Day. However, there is no need to complain. It is the perfect excuse to indulge in some delicious chocolate chip cookies. 
Go home and try your hand at making the original chocolate chip cookie. We recommend getting the 3-Piece Bakeware Set from USA PAN for the best results for your cookies. Try it today!