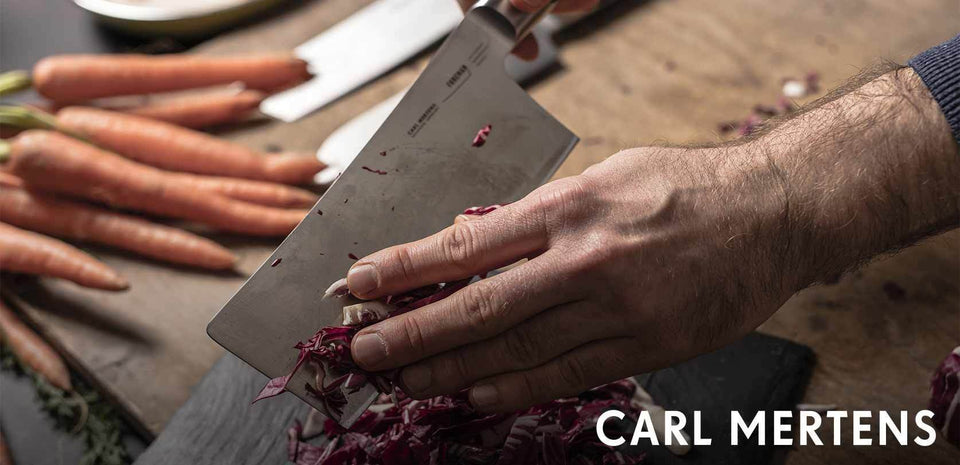 Welcoming Carl Mertens to the U.S.A.
For knife enthusiasts, Solingen is a familiar name. Settled in between Wuppertal and Dusseldorf, the town has a rich history of manufacturing blades. Known as the "City of Blades," Solingen is the home for large knife brands Wüsthof and Zwilling J.A. Henckels. Though brands have expanded and the manufacturing process has changed, there's a smaller century-old brand who's still using the same techniques from the beginning.
Carl Mertens International started in 1919 as a small job-order grinding shop for pocket knives. They've expanded their lines over time, adding flatware, kitchen knives, and accessories. Though we've reached the 100-year mark since the beginning of Carl Mertens, one thing remains the same; the creation process. Everything made at Carl Mertens comes with a lot of manual work. Production goes through the process of stamping, grinding, and sharpening, similar to their roots, and completed in the same facility. Curt Mertens prefers to keep it that way.
A third-generation leader, Curt Mertens took over the family business in 1978 when the demand for mass-produced cutlery in Asia increased. However, Curt accepted the challenge. He didn't believe in dropping decades of experience from their brand, but rather followed with the motto "small but fine." Curt collaborated with up-and-coming designers to challenge the idea of how cutlery should be made. The results were priceless; multiple design awards and an ever-growing fan base following the commitment.
While Carl Mertens has innovated their products, one thing remains the same; the time and care that go into making the knives. All Carl Mertens knives are put through a rigorous process - which concludes with a unique knife that differentiates from the rest. With a rust-proof X50CrMoC15 stainless steel blade and European walnut handle, these knives are too beautiful to be stored away for long.
J.L. Hufford is pleased to be bringing the craftsmanship of Carl Mertens Knives and Accessories to the U.S.A. We're passionate about providing chefs with the finest tools for delicious meals. All Carl Mertens knives are handmade in Solingen, Germany to maintain the same craftsmanship from 100 years ago. Once a Carl Mertens knife is in your kitchen, you'll experience history on your countertop.