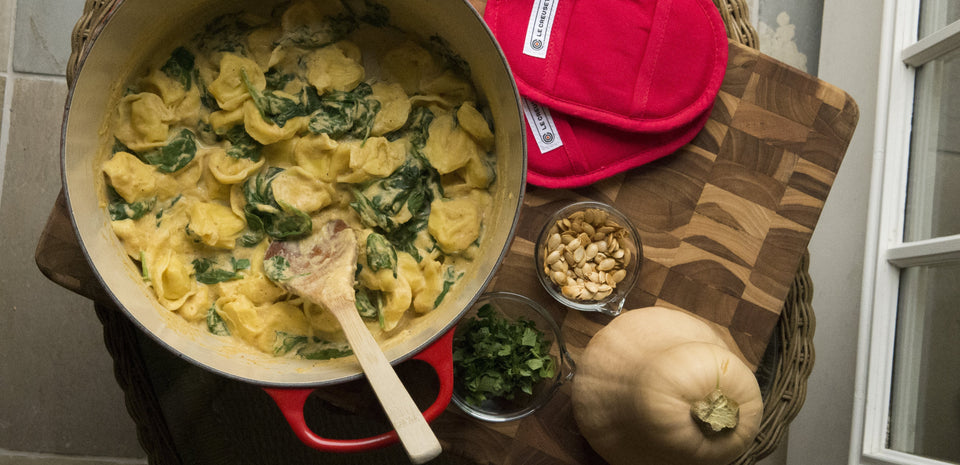 Vegetarian Butternut Squash Tortellini
Wrena has a new recipe utilizing a fall and winter season favorite, butternut squash. It's vegetarian, too! The sweet squash paired with cheesy tortellini makes this recipe a smashing hit. Check our Wrena's how-to video and recipe below!
Recipe
1 C. Butternut Squash puree (see below for homemade instructions)
1 C. Half & Half
1/4 Tsp. Nutmeg
1/4 Tsp. Cinnamon
1/4Tsp. Salt
1/4 Tsp. Pepper
Pinch of Paprika
4 oz. Fresh Spinach
1, 19 oz bag of frozen Cheese Tortellini
Garnish: Chopped Parsley and Roasted Squash Seeds
If desired, 19.5 oz package of Sweet Italian Turkey Sausage, crumbled and browned
Directions
Cook tortellini according to package directions.
While the tortellini is cooking, add butternut squash puree, half & half and spices into a small stockpot on medium heat. Mix well and heat until warm, stirring occasionally.
Stir in spinach and place lid on stockpot until spinach wilts. Once the spinach has wilted, stir in the cooked and drained tortellini. If using the sausage, stir in now.
Serve and enjoy. Add garnish, if desired.
Homemade Butternut Squash Puree Directions
Pre-heat oven to 325 degrees

Fahrenheit

. 
Cut a butternut squash in half vertically. 
Remove seeds and pulp from the squash.
Place squash, cut side down, on a parchment-lined baking sheet. 
Bake for 30-45 minutes until fork tender. 
Let cool, remove skin then place cubed squash in a blender to create a puree. 
For more information about the
Le Creuset
used, please visit our
website
. This is recipe #4 in our holiday cooking series! If you missed a video or two, we have them all available on our
YouTube
 playlist. Wrena Hufford is an excellent resource for cooking and holiday hosting!