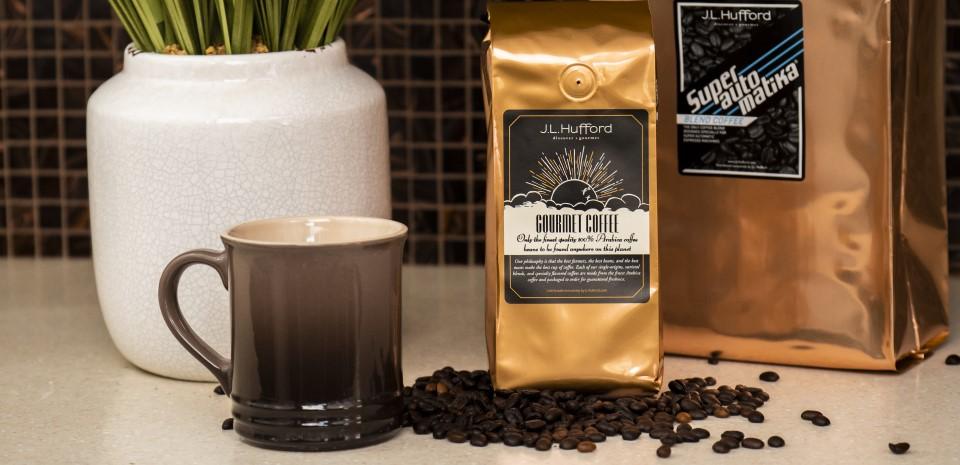 National Coffee Day is September 29th!
Every year, we celebrate one of the greatest inventions of humankind - coffee. September 29th is National Coffee Day, a day to go to your favorite coffee shop or brew a fresh batch of delicious coffee. Many coffee businesses have deals on coffee for this momentous day, so be sure to support your local coffee shop and see what they have in store.
To further celebrate, be sure to post on social media about this great observance by sharing a picture of your coffee and using the hashtag #NationalCoffeeDay. When you do that, you can tag our accounts too (@jlhufford on Twitter and @jlhuffordonline on Instagram).
This National Coffee Day, you can receive 10% off of J.L. Hufford coffee! We have over 100 types of coffee flavors for you to choose from. Banana split, decadent dark chocolate, Milky Way flavored, spiced butter rum, are just a few of the delicious flavors we have to offer. Search our collection of coffee today!
Our philosophy is that the best farmers, the best beans, and the best roasts make the best cup of coffee. Each of our specialty flavored coffees, single-origins, and varietal blends are made from 100% Arabica coffee (except for some of our espresso blends), and packaged to order for guaranteed freshness. J.L. Hufford purchases only from the top 3% of the highest quality Arabica coffee grown. Our coffee buyers have traveled to many coffee producing countries to find and inspect some of the world's greatest coffees.
To us, all aspects of buying and processing coffee are important, like adherence to rigid quality control standards. Multiple tests are conducted on the coffee samples once they are brought back to the states. Using state-of-the-art lab equipment and trained coffee cuppers, our roasters analyze many aspects of the beans: moisture percentage, the amount of defects, the bean size, and most importantly, the actual cup quality.
Each coffee is rated on over 20 different taste characteristics before we purchase a single bean. Immediately after roasting the bean, the coffee is packaged into nitrogen-flushed bags. This process forces nitrogen into the package, replacing the oxygen, that would otherwise quickly age the coffee. The nitrogen preserves the wonderful flavor characteristics of fresh-roasted coffee. For flavored coffees, flavor oils are added in a cup-tested proportion such that just the right amount of each flavor is infused into the bean during the appropriate minutes of roasting. Enjoy this or any of J.L. Hufford's coffees in one of several grind sizes or whole bean.