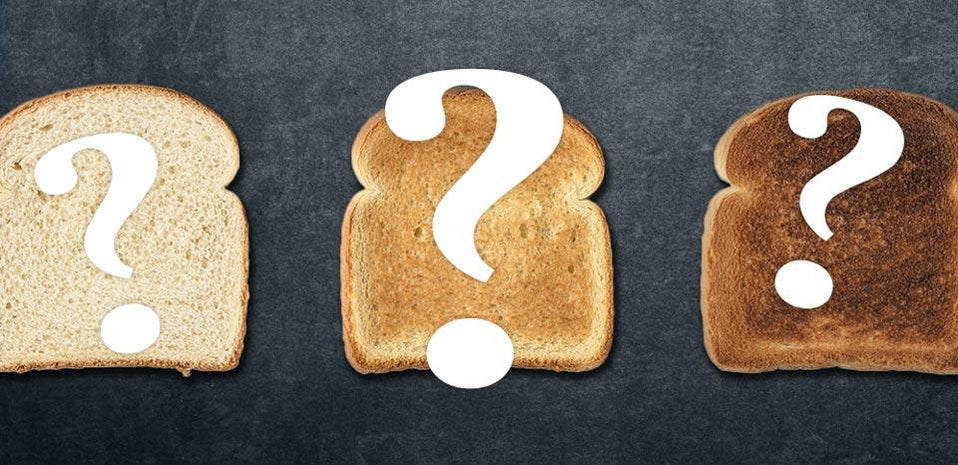 Snazzy Breakfast Toast Ideas
The art of toasting bread has been around for centuries, reaching all the way back to Roman times. It was a delicious way to prolong the life of bread, originally being cooked over an open fire. It wasn't until 1893 when Alan MacMasters from Scotland invented the electric toaster. In 1909, the toaster got an upgrade by Frank Shailor from the U.S., however his patent on the toaster required people to flip the toast and stand by to take it out when it looked done. Companies tried their different variations, but finally in 1919 Charles Strite invented the modern timed pop-up toaster. In honor of 100 years of the modern toaster, here are ten ideas to spice up your toast. 
Berry Toast
Who doesn't love fruit? Fruit is nature's candy. For this idea you'll get to mix sweet, yummy fruit with delicious crunchy toast. You'll need a blender and a toaster. We recommend using the Wolf Gourmet 4-slice Toaster for all of your toasting needs, and then any one of our high quality blenders. 
All you need to do is take your frozen fruit, mix it in a blender with cream cheese, toast your bread, and spread the berry cream onto the toast. It's that easy! You can determine how creamy or berry you want your spread, and what kind of berries you would want. After, you can put some berries on top for even more flavor!
Crunchy Toast
One of the best kinds of toast is French toast. Is it actually from France? Who knows. Either way, there is something absolutely delicious about chewy, yummy French toast, and what goes great with chewy? Crunchy! For this recipe, you'll need:
4 large eggs
2/3 cup milk
1/4 cup all-purpose flour
1/4 cup granulated sugar
1/4 teaspoon salt
1 teaspoon ground cinnamon
1 teaspoon vanilla extract
8 thick slices bread (Texas Toast is best)
2 cups of crispy rice cereal or crushed corn flakes
Instructions:
Preheat Wolf Gourmet Precision Griddle to 350 degrees F.
Add cereal to a shallow pie dish or plate. Add all ingredients, except the bread and cornflakes to a blender and combine.
Add the batter and the cereal to two separate shallow dishes. Dip each piece of bread into the egg mixture on both sides and then press gently into the cereal, flipping to coat both sides.
Melt a small piece of butter on the griddle (or grease with cooking spray). Place the bread slices on the hot skillet and cook for a few minutes until golden on the bottom and then flip and cook on the other side. Serve warm with your favorite syrup!
Pizza Toast
Everyone loves pizza because there's a pizza out there for everybody. It's incredibly easy to make pizza toast, and saves you so much more time than making a full size pizza in the oven. 
All you do is spread tomato sauce on your bread, add your cheese, your pepperonis, and put it in a toaster oven. We recommend using the Wolf Gourmet Elite Countertop Oven to cook your pizza toast, along with a few of the other toast ideas listed below. Everyone should have a high quality toaster oven for those quick meals, and Wolf Gourmet is the best in the business. 
Meat Lover's Toast
Breakfast meats are some of the best; bacon, sausage, the underrated ham. Why not pair all of them together? This recipe is fairly easy. Fry your bacon, sausage, and ham on your griddle, or in a Wolf Gourmet Skillet. Toast your bread, and put your meat on top! For even more delicious flavor, spread some barbecue sauce on top, maybe add some tomatoes, whatever you want!
Egg in a Pocket Toast
You probably have heard of egg in a hole toast, so get ready for egg in a pocket! It's a simple take on a classic. You start as though you were making an egg in a hole; hold the piece of bread up and cut out a circle (or a heart) until cut all the way (we find it easiest to hold it up, but feel free to choose whatever method). Butter a skillet and put the toast in, coating it in butter, and do this again but with the other side. Let the toast get lightly brown on both sides, slightly browner on one side and then flip so that side is on top. Crack an egg into the hole, let it cook, flip the bread for over easy eggs (cook longer for medium or hard, just watch the toast). Flip it back and take the cut out piece of bread and place it over the hole. Cover the edges in cheese, and let it cook. Flip it so the cheese melts to the bread fully, and when you flip it back over you'll have your egg in a pocket! 
Keto Toast 
For all of those on the Keto diet, you might miss bread. However, you can still enjoy toast with this recipe.
You'll need:
1 tablespoon of butter
1/3 cup of blanched almond flour
1 egg
1/2 tablespoon of baking powder
A pinch of salt  
Melt your butter in a mug in the microwave (roughly 15 seconds). Swirl the butter around until the mug is coated. Pour the rest of the ingredients in the mug. Whisk until smooth. Microwave for 90 seconds. Cool for about two minutes. Slice!
Avocado Toast
Although eating avocado toast is what keeps
millennials from being able to afford a house
, it sure is delicious. The best part of avocado toast is how versatile it is. You can pair it with eggs, tomatoes, bacon, whatever you want. All you do is
toast the bread and add a spread of avocado.
Spending the few bucks on this yummy meal will unfortunately put a dent in your $40k student loan payment, but it is definitely worth it.