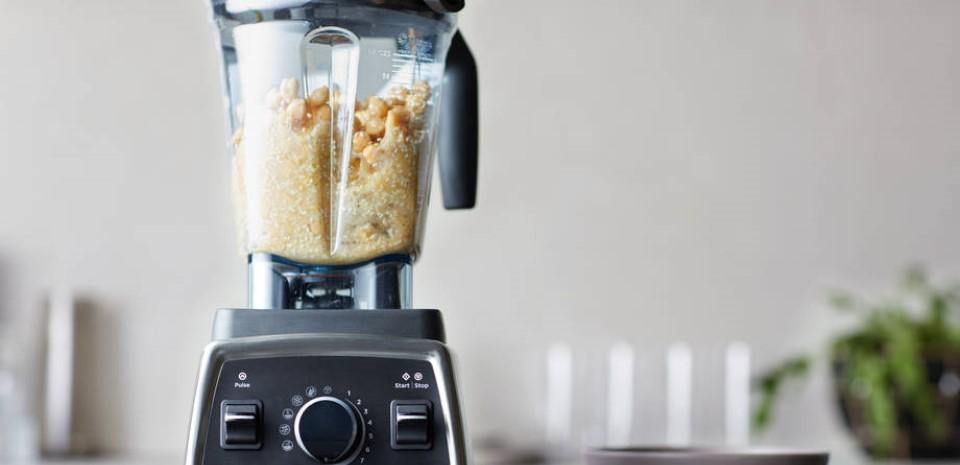 Making Hummus in a Vitamix 750
Hummus is a widely popular dip and spread that originates from the Middle East. It's popular for its taste, but also because of all the health benefits it has. Hummus contains a wide variety of vitamins and minerals, is high in fiber, has many heart-healthy ingredients, and is gluten, nut, and dairy free. Making your own hummus is fun as well, because it's made with standard ingredients but has plenty of room to play around with the recipe. 
Try out our hummus recipe below, and let us know how you made it your own!
Ingredients
3 Tbsp tahini
2 Tbsp Extra Virgin olive oil
1 (15 oz) can garbanzo beans/ chick peas
2 1/2 Tbsp fresh lemon juice
1 medium garlic clove
1/4 tsp cumin
Salt to taste and paprika to taste
Directions
ADD chick peas, 2 Tbsp liquid from chick peas, tahini, lemon juice, olive oil, garlic and cumin to your Vitamix Professional Series 750 Heritage Blender. Season with salt to taste.
BLEND the mixture for 5 minutes while stopping and scraping the sides once. Add additional liquid from chick peas to thin as needed.
PLATE and drizzle with olive oil and sprinkle with paprika. Store in refrigerator.
We recommend using the Vitamix 750 blender for making your hummus, because this high performing blender has a variable speed control and pulse feature, or automated blending and self-cleaning with 5 programmed settings. It even comes with a free cookbook!
Let us know how your recipe turned out by tagging us on Instagram or Twitter! Also be sure to follow us on Pinterest for more yummy recipes!