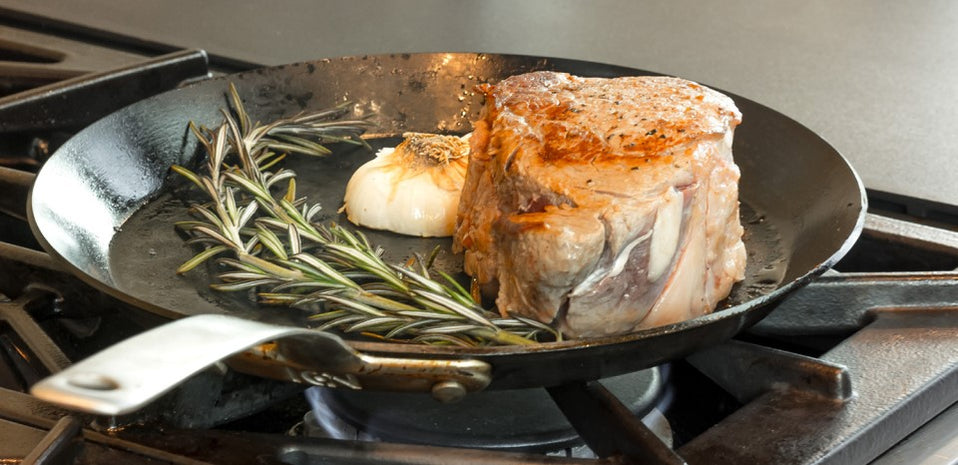 Pan Fried Porkchops and Cornbread Recipe
Porkchops and cornbread are a classic meal loved by many. Savory and seasoned meat, fluffy and yummy cornbread, what's not to love? Many people love the meal, but don't know how to make it. Have no fear, though, you can try our recipe below!
Porkchop Recipe
Ingredients
 

2

 

medium-sized heritage breed pork chops

 

kosher salt and freshly ground black pepper

 

4

 

tablespoons melted butter

 

 

1

 

tablespoon

 chopped fresh thyme

 

2

 

cloves

 minced garlic

 

1

 

tablespoon

 

extra virgin olive oil
Directions
Preheat oven to 375°F.
Season the pork chops with salt and pepper, and set aside.
In a small bowl, mix together the butter, thyme, and garlic. Set aside.
In a cast iron skillet, heat the olive oil over medium heat.
When the skillet is really hot, add the pork chops. Sear until golden, about 2 minutes per side.
Pour the garlic butter mixture over the pork chops.
Place the skillet in the oven, and cook until the pork chops reach an internal temperature of 145ºF, about 10-12 minutes. The time depends on the thickness of your pork chops.*
Remove from the oven. Using a spoon, pour some of the butter sauce left in the skillet onto the pork chops before serving.
Cornbread Recipe
Ingredients
1 cup flour
1 cup cornmeal
1/4 cup sugar
4 teaspoons baking powder
1/2 teaspoon salt
2 eggs
1/3 cup butter melted
1 cup buttermilk
Directions
Preheat oven to 350 degrees.
Whisk together flour, cornmeal, sugar, baking powder and salt.
In a separate bowl, whisk together egg, buttermilk and melted butter.
Combine the wet and dry ingredients just until mixed.
Spread into a greased 8x8 pan and bake 30-35 minutes or until a toothpick comes out clean.
We have all the cookware you could need to make this delicious meal, and many meals after that! Enjoy!