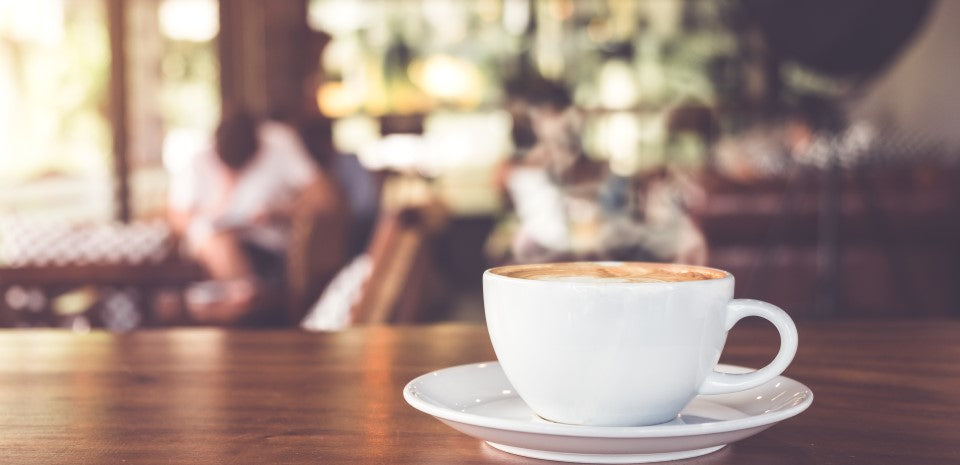 How to Make Your Home Feel like Your Favorite Coffee Shop
People love going to coffee shops, and not just for the coffee. Coffee shops are considered a "third space," which is a space that isn't the home and isn't the workplace, or a space that's not the dorm or the classroom. This is why coffee shops are so popular, they provide a place for people to relax, hang out with friends or family, work on homework or creative projects, and enjoy a good cup of coffee. You can't live in a coffee shop unfortunately, but you can bring all of the things you love about your favorite coffee shop into your home. Let's say you have a spare room that could use a makeover. Why not make it your own coffee shop? Here are a few pointers on how to get started.
1. The right furniture
While filling your room with multiple tables and chairs probably isn't feasible, you will want comfy chairs and couches, a coffee table, and at least one table perfect for sitting down and working on your laptop. We recommend setting up two chairs on one side of a coffee table and a love seat on the other side. This way you can channel your inner Friends and have company over around a coffee table with good coffee. Having a table to work on is ideal as well, even if you're not a student. Maybe you've always wanted to write a book. Writers love coffee shops, so setting up a coffee shop vibe in your own home can get the creative juices flowing. You can have a tall island or bar with bar stools, or maybe you could opt for a stylish desk next to the window.
2. Aesthetic
One of the nicer but less necessary parts of a coffee shop is the aesthetic, or the atmosphere, but we think this is very necessary for your own mini-shop. We have a whole Pinterest board dedicated to "coffee shop aesthetic" if you want to get inspiration. Maybe you like coffee shops with natural lighting, lots of succulents, and inspirational quotes everywhere. Maybe you like a low lighting shop with eclectic decor, books scattered about, knickknacks on shelves. One thing a lot of coffee shops have is local art, so pay a visit to a local gallery and get some art. You'll help out a local artist too! Regardless of what aesthetic you want, just make sure the "vibe" is ideal for you.
3. A good playlist
Believe it or not, a playlist is actually quite important. One reason why coffee shops as "third spaces" are so popular is because of the noise. Studies have shown that the noise level of most coffee shops is ideal for getting creative juices flowing. It's not too quiet and it's not too loud. So a playlist has a major role in this. Listening to your favorite music is always nice, but the thing with coffee shops is listening to songs you don't know or regularly listen to. If you're working on the next Great American Novel, your favorite song might end up distracting you in the end. If you want a great playlist, check out the J.L. Hufford Spotify Playlist!
4. The coffee stand
One of the important parts of a coffee shop - probably the most important - is behind the counter where the coffee is made. Having a full kitchen is not necessary, though. If you only like coffee one way, then you probably only need the machine for that coffee. We have a vast collection of coffee and espresso machines you can look through if you're in need of a new machine. We also have a vast array of drinkware to add to your coffee corner as well! All you need to do is create your own coffee bar, coffee nook, coffee stand, whatever you want to call it. A tall table with a hutch, maybe hooks to hang your mugs on, a cute sign - whatever you are feeling. Pinterest has many DIY coffee bars to inspire you.
5. Guests
What's a coffee shop without people? While going to a coffee shop alone is very common, every now and then it's nice to go with good company. Feel free to invite your friends over some time for a cup of Joe. You can also hold a coffee cupping session, and if you're not sure what that is, read our blog post about it to learn more and how you can have your own cupping session! Either way, when you finish making your little room into a mini coffee shop you'll want to show it off anyway. Invite your friends, family, coworkers, neighbors, whoever over and talk over a cup of coffee. Make it the place to be!
6. Good Coffee
Of course, the most important part of a coffee shop is the coffee. If a coffee shop has cute decor, good music, a nice location - but bad coffee? - it's not going to be your favorite. So you'll want to make sure your coffee is great. J.L. Hufford has a massive selection of different coffee to choose from, whether you want a classic dark roast or an eccentric flavor. Every morning you can sit in your mini coffee shop and enjoy a nice cup of coffee to get you started for the day. In the afternoon you can sit at your table by the window and work on your novel while sipping on your favorite beverage. On the weekend, your friends can come over and sample different coffees, catching up and making memories. You can't do these things without the right coffee, though.