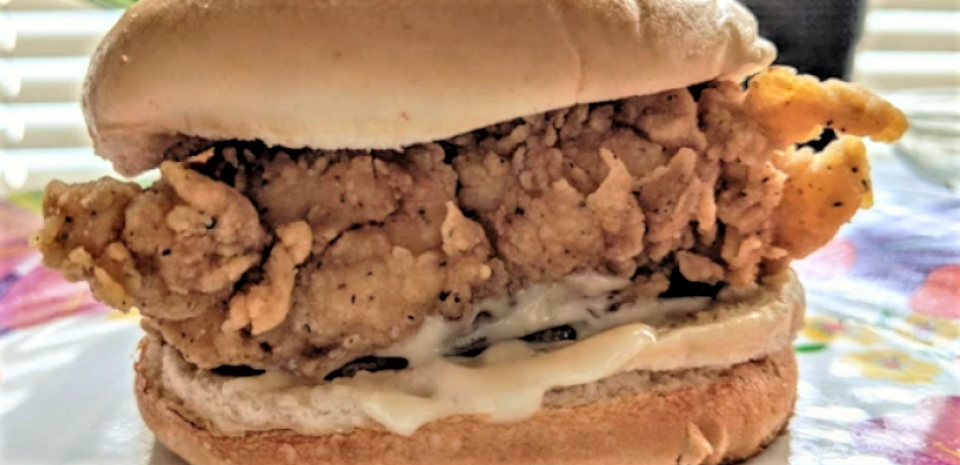 Make Your Own Chicken Sandwich at Home
Popeye's and Chick-fil-A have recently gotten into a Twitter feud over who has the better chicken sandwich. Most people claim Popeye's wins this battle, and some Popeye's restaurants have had such a drastic increase in customers since the Twitter feud that they've run out of chicken sandwiches. Either way, the chicken sandwich is a classic meal that is usually a safe option at most restaurants. Speaking of restaurants, when was the last time you had a homemade chicken sandwich? As much as chicken sandwiches are loved, it's not often to have one in your own home, even though homemade food is always deemed better than anything in a restaurant. So why not make one of your own?
Try this crispy chicken sandwich recipe below and see if yours compares to Popeye's!
Marinade Ingredients
½ teaspoon

 

cayenne pepper

8 boneless, skinless chicken thighs or breasts
Seasoned Flour Ingredients
1 ½ teaspoons

 

cayenne pepper

1 tablespoon

 

garlic powder

peanut or vegetable oil, for frying
Directions
Marinade: In a medium bowl, combine the buttermilk, salt, pepper, and cayenne. Toss in the chicken thighs in the marinade to coat. Marinate for at least 1 hour in the refrigerator, or overnight.

Seasoned Flour: In a medium bowl, combine the flour, salt, pepper, cayenne, and garlic powder. Dip the marinated chicken in the flour mixture until the chicken is completely covered.

Heat the oil in a deep pot until it reaches 350˚F (180˚C). Do not fill more than halfway with oil. Carefully fry the chicken for 7 minutes, or until cooked through.
The internal temperature should reach 165˚F (75˚C), and the chicken should be golden brown and crispy. Drain on a paper towel–lined plate or wire rack.
Heat a large skillet over medium heat. Butter the cut sides of the burger buns, then toast on the hot skillet until browned and crisp. Build the sandwiches with the toasted buns, lettuce, fried chicken, tomato slices, and dill dressing.
We recommend using a pot from All-Clad, because they have a great selection of stainless steel cookware that's perfect for chicken sandwiches, and more! 
If you take a stab at this recipe, let us know if it's better than Popeye's or Chick-fil-A's by tagging us on Instagram and Twitter!