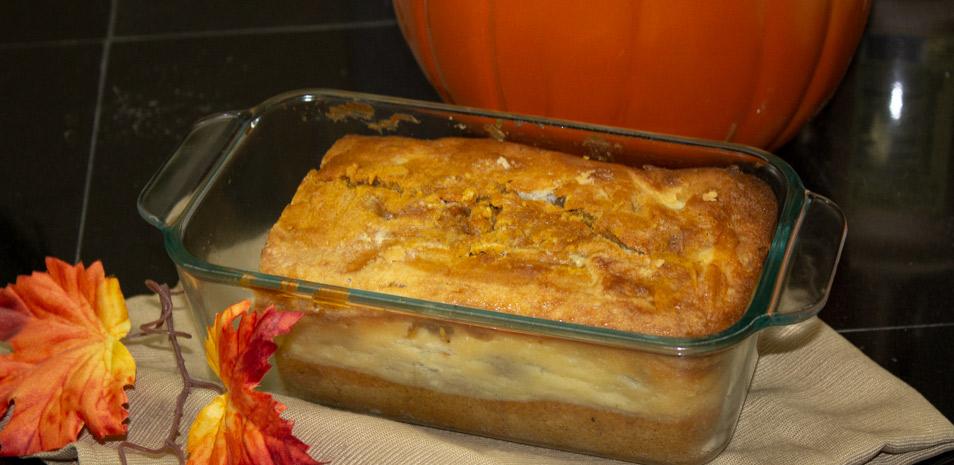 Cream Cheese Pumpkin Bread Recipe
Autumn is one of the most popular seasons, and for good reason. It means Halloween is around the corner, bonfires are waiting to happen, and pumpkins are bound to be carved - and eaten! Pumpkin flavored foods are an autumn tradition. Pumpkin spiced lattes, pumpkin pie, and of course pumpkin bread are just a few of the fall favorites. There's nothing like homemade pumpkin bread, and for a lot of people, pumpkin bread goes great with cream cheese! Below is a delicious cream cheese pumpkin bread recipe to try!
Ingredients
Cream Cheese Filling
8oz. package of cream cheese, softened
1/2 cup granulated sugar
1 tablespoon all-purpose flour
1 egg
1 teaspoon vanilla
Bread
1 and a 2/3 cups all-purpose flour
1 teaspoon baking soda
1/2 teaspoon salt
1 teaspoon cinnamon
1/2 teaspoon nutmeg
1/2 teaspoon pumpkin pie spice
1/2 cup vegetable oil
1 and a 1/2 cups granulated sugar
2 eggs
1 cup pumpkin puree
Directions
Preheat the oven to 325 degrees F. Grease a 9-by-5 inch loaf pan with nonstick spray.
For the cream cheese middle: In a medium bowl using an electric mixer combine the cream cheese, sugar, flour, egg and the vanilla and beat until smooth. Set aside.
For the bread: In a medium bowl whisk together the flour, baking soda, salt, cinnamon, nutmeg and the pumpkin pie spice. Set aside.
In a large bowl using an electric mixer beat together the vegetable oil, sugar, eggs and the pumpkin puree until well combined.
Add the flour mixture to the pumpkin mixture a little at a time, stir until just evenly combined.
Pour 1 1/2 cups of the batter into the prepared loaf pan. Spoon the cream cheese mixture over the top of this layer and spread evenly (it might seem like there is a lot of cream cheese spread, but don't worry, it's the right amount). Add the remaining batter, and don't push the batter into the spread.
Bake for 65 to 75 minutes or until a toothpick inserted into the center comes out clean. For softer edges cover with foil the last 15 minutes of baking. Cool in pan for 15 minutes before removing, then place on a wire rack and cool completely before slicing.
Staub has all of your bread baking needs, such as a nice cast iron loaf pan that is perfect for your pumpkin bread. If you really want to get into the season, you can even bake your bread in a cast iron pumpkin-shaped cocotte!
Let us know how your bread turns out by tagging us on Instagram or Twitter, and follow us for more recipes!