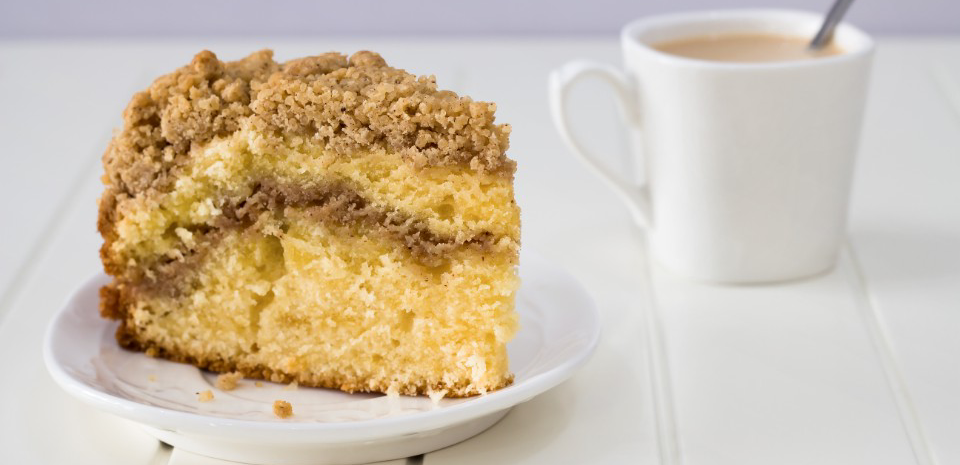 April 7th is National Coffee Cake Day! (Recipe)
There's a holiday for everything, but our favorite holidays are the ones related to food. Better yet, the ones related to coffee. So that's why April 7th is such a treat, because it's National Coffee Cake Day! Most coffee cakes actually don't have any coffee in them, but we disagree with that. Coffee cakes need coffee! So our recipe calls for freshly brewed coffee to give your cake that delicious taste you love so much. Most coffee cakes also have a streusel in them, so ours is going to have a light, cinnamon sugar streusel in the center as well. Follow the recipe below! 
True Coffee Cake Recipe
Prep time: 20 minutes
Total time: 55 minutes
Tools
9x13 bake pan
Stand or hand mixer
Streusel Ingredients
3/4 Cups pecans or walnuts (optional)
3/4 Cups sugar
1 Teaspoon cinnamon
Cake Batter Ingredients:
3 1/3 Cups all-purpose flour
1 1/2 Teaspoons salt
2 Teaspoons baking powder
1 Teaspoon baking soda
3/4 Cups buttermilk
3/4 Cups strong coffee, cold
2 Teaspoons vanilla
1 1/2 sticks (12 Tablespoons) unsalted butter, soft
1 3/4 Cups sugar
3 large eggs
Glaze Ingredients: (Optional)
1/4 Cup strong coffee
2 1/2 Cups sifted powdered sugar
Directions:
For the streusel, mix the chopped nuts with the cinnamon and sugar and set it aside for later.
Once you have your coffee brewed, be sure to cool it off in the fridge. Adding hot coffee to a cake batter is a recipe for failure. You can also make a batch of cold brew coffee If you don't know how to make cold brew coffee, read our blog post on how to make some.
In a bowl, mix together the flour, baking powder, baking soda, and salt.
Using a stand mixer or a hand mixer, beat the butter and sugar together until they're light and fluffy. Then add the eggs one at a time, mixing in between each one. Then add vanilla.
Next, you need to incorporate the dry ingredient mix and the liquids into the creamed butter. When baking a cake, always add about a third of the dry ingredients, stir, then a third, of the liquids, stir, and do this until everything is mixed together. So you will add your dry ingredient mixture, then a third of your coffee and buttermilk, and so on until it is all mixed together.
Add half of your batter to your pan and even it out. Pour your streusel mixture on top, and then add the rest of your batter.
Bake at 350 degrees for 35 minutes, or until a toothpick inserted into the cake comes out clean.
Let cool (approximately one hour) and prepare the glaze if you would like.
For the glaze, combine powdered sugar and cold coffee together until smooth and syrup-like. Pour the glaze on when the coffee is completely cool.
Feel free to throw in raisins, brown sugar, or anything else you would want. Enjoy!
How to make it vegan:
Use almond milk instead of buttermilk, applesauce instead of eggs, and margarine instead of eggs.
Let us know how your cake turns out by tagging us on Instagram!