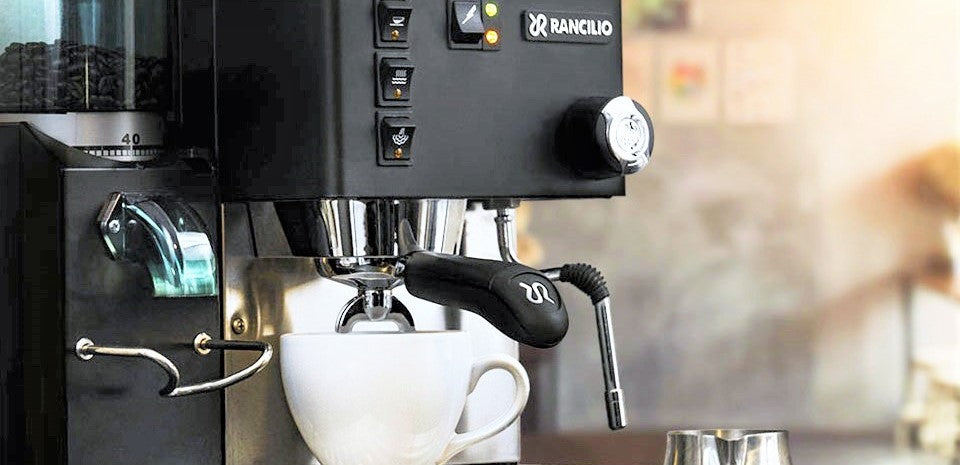 What are the Different Types of Coffee Makers?
Coffee culture has evolved over the past two decades. In the 1990's, coffee wasn't drank nearly as much as it is now. According to the National Coffee Association, 64% of Americans drink coffee. 79% of those people drank coffee that was brewed at home. Although the majority of coffee drinkers make their own coffee, are they using the right machine? There are a variety of coffee makers out there. The coffee aficionados know very well which machines are best, but for the average American, a lot of factors can play into the right machine. How much time do they have to make coffee? How much money do they have to spend on a coffee maker? What kind of coffee are they drinking? In the list below, you can learn more about the different kinds of coffee makers and determine which one you think is right for you.
Automatic Drip Coffee Makers
Easy to use, affordable, and reliable
Drip coffee makers are some of the most common coffee makers in American households. In some stores, you can get them for less than $50, and they're very easy to use. This is why they're so popular. If you're someone who has to get the kids ready for school, get ready for work, and are full of tasks in the morning - then one of these is probably best for you.
That being said, if you're going to get an automatic drip coffee maker, don't buy the cheap one. The $40 drip coffee maker doesn't offer a lot of control over how you brew. A cheap one of these machines will leave your coffee inferior. There are ways to make great coffee at home. You can read about it in one of our previous blog posts by clicking here!
 We recommend the Technivorm Moccamaster Coffee Brewer. For one thing, this machine comes in over twenty colors, so it will match any kitchen. It also offers a lot of options and control in terms of brewing, which is the best way to get a great cup of coffee. It's SCA (Specialty Coffee Association) certified, so you know it will make a delicious brew.
French Press Coffee Makers
Better tasting coffee, affordable, easy to clean
A French press is a manual coffee maker that involves letting coffee steep in water for approximately two to four minutes, and then plunging the press the grounds are separated. One reason why many people prefer a French press is because it doesn't use paper filters, which are known to deprive the coffee of its natural oils that give it flavor. French presses are also great for making cold brew coffee, it just requires you to steep the coffee for longer in a fridge. 
French presses are pretty much the same across the board. So if you want to buy a French press, you don't have to splurge on the most expensive one because it won't be that much different than one of a more affordable price. Some are made from glass, some are made from plastic, some are meant for travel. If you're somebody who wants to take a few extra minutes to have your coffee taste twice as good, then a French press would be great for you.
Luckily for you, the J.L. Hufford French Press is only $19.95. It can make 8 cups of coffee in one go, and comes with two replacement filters. Just be sure you use coarse grounds when using any French press - otherwise if they're too fine then they seep through the filter!
Pour Over Coffee Makers
Superb coffee, full control, become a coffee guru
Coffee connoisseurs love a pour over coffee maker. Why? Because with a pour over set up, you have full control of the brewing process, and this leads to better tasting coffee. When you have a pour over set up, you'll feel like a coffee guru. If you want to make brewing coffee your hobby, then get a pour over. Then you'll invest in a quality grinder, good storage containers, know everything about every coffee beans, and let coffee brewing be your passion. 
In all seriousness, though, a pour over set up is a great way to make great coffee. We recommend the notNeutral Pour Over Dripper and Carafe set up. You start by placing a filter in the dripper, warm it up with some water, place in your coffee, put the dripper over the carafe, and then pour over hot water. Make sure the water is 195°F to 205°Fm which is considered ideal water temperature. You can control what filters you use, the temperature of the water, the type of coffee, how fast you pour it - everything. A pour over set up can also be used for cold brew too!
Moka Pot
Strong coffee, customization in brewing, unique 
A moka pot is a less common coffee maker, but still an efficient one. It essentially brews coffee by passing boiling water pressurized by steam through ground coffee. This coffee maker is probably the most unique, as the bottom portion is filled with water, the steam breaks through the ground coffee, and the top container becomes full of coffee. Moka pots can make coffee, but usually the consistency is closer to espresso, so most people use one to make espresso anyway.
We recommend the DeLonghi Alicia Moka Electric Espresso Maker.Unlike stove top moka pots that force you to monitor the process and remove them from the flame, the Alicia Moka allows you to simply press one button and walk away. This moka pot allows you to change both the size and strength of your finished espresso with the interchangeable 3 or 6 cup filter adapter. Have some fun with your espresso brewing.
Automatic Espresso Machine
Dependable, total control, great coffee
For espresso lovers, an automatic espresso machine is a must have. Instead of waiting in line at a coffee shop, you can have coffee shop quality in your home in a matter of minutes. Automatic espresso machines are easy to use, and the majority of them have countless settings. So you have total control in the brewing process, can alter it however you like, and half the time all you have to do is just press a button. 
The majority of automatic espresso machines that are worth it aren't exactly inexpensive. However, if you drink coffee and/or espresso everyday, then they're completely worth it. Our automatic espresso machines are some of our most popular products, especially because we offer factory refurbished ones which helps lower the price without lowering the quality. 
Our Jura Z6 Automatic Coffee Center with P.E.P. is one of our best factory refurbished automatic espresso machines. The Pulse Extraction Process (P.E.P®) prepares coffee to the same standard as the best coffee bars. It can brews 13 different specialty drinks and has 10 coffee strength levels to choose from. Owning one of these machines will entirely change how you make coffee at home. And if you ever need to replace a part, we have all you would need.
Pump Espresso Machine
Classic, dependable, entertaining
A pump espresso machine is like an automatic espresso machine mentioned above, but manual. For one of these, you'll feel like a real barista. So using a pump espresso machine might take some practice if you've never used one before, but if your goal is to build an ultimate espresso bar, then we recommend one of these. A pump espresso machine will make you feel like a coffee expert, and you might actually become one too. With one of these, coffee will become a great hobby.
We recommend the Rancilio Silvia M V5 Espresso Machine if you're looking for a pump espresso machine. Our customers call this a "slam dunk," an "excellent machine," and give it plenty of praise in our reviews. One nice thing about this machine is it's small enough to comfortably fit in your kitchen, but still has that coffee shop quality. You'll feel like a real barista with the Silvia, and if you ever need to replace a part, we have all you would need.
What machine do you love best? Let us know by tagging us on our Instagram!