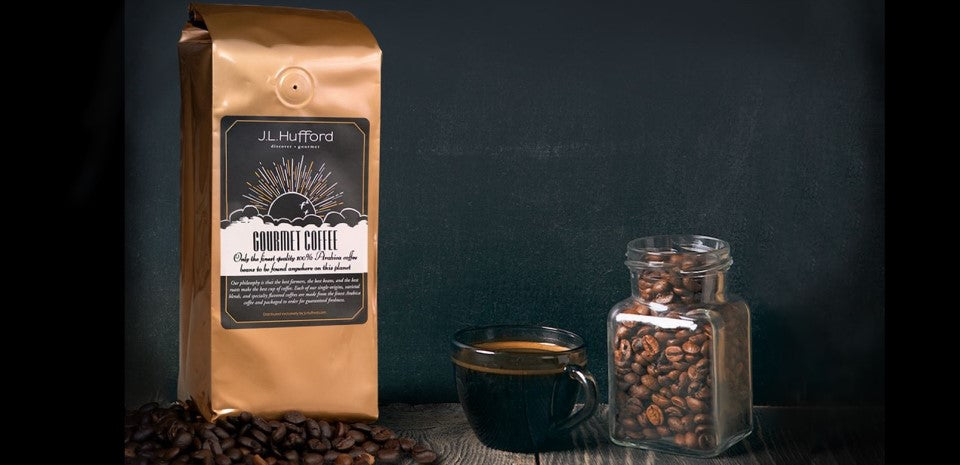 The Top 10 J.L. Hufford Coffee Blends
J.L. Hufford coffee has over a hundred different flavors of coffee. Whether it's something unique like ice cream sandwich coffee, or something classic like our house blend, we have a flavor for everyone! 
Our philosophy is that the best farmers, the best beans, and the best roasts make the best cup of coffee. Each of our specialty flavored coffees, single-origins, and varietal blends are made from 100% Arabica coffee (except for some of our espresso blends), and packaged to order for guaranteed freshness. J.L. Hufford purchases only from the top 3% of the highest quality Arabica coffee grown.
So what are the most popular coffee blends from J.L. Hufford? See our list below!
. . .
Our French Roast coffee is a well roasted blend that has a bittersweet flavor profile. French roast means the beans are roasted to a dark brown color, and the natural, acidic flavors of the bean are diluted to create an espresso-like taste. A dark roast for those who love the natural taste of coffee, it's no surprise this is our tenth most popular blend.

The J.L. Hufford Breakfast Blend is comprised of flavors meant to complement your morning meal. It goes perfect with cinnamon toast, a strawberry muffin, pancakes, glazed donut, or even a simple banana. This blend is perfectly roasted to bring out the rich flavors, and is our ninth most popular blend.

Our hazelnut blend of coffee is a delicious, darker roast with bold flavors. This blend is perfect for any morning and even an afternoon pick-me-up. It pairs perfectly with Nutella toast, or with a nice lunch. It's blended just right to bring out the flavorful undertones, and it's no surprise that this comes in our eighth most popular spot.
This blend of coffee takes the rich, tropical flavors of Colombia and infuses it into our classic blend. Colombia, where eternal spring takes place, is the perfect climate for the best coffee beans. If you love a robust, true coffee flavor, then this blend is perfect for you, and it's why it's for sure in our top ten.

One of our verified buyers, Stephen H. from Florida says, "J.L. [Hufford] offers the best Southern Pecan coffee I've ever had. There's not a lot of it out there, but it can be found. And the Southern Pecan that [J.L. Hufford] offers is the best!" We like to let our dedicated customers speak for themselves, so go ahead and give our southern pecan blend a try.
Sumatra Mandheling coffee is a rare Indonesian coffee that is delightfully smooth with a rich heavy body, low acidity, and an exotic flavor. With an intense syrupy aftertaste and an earthy richness, this is one of our most unique but delicious blends.
Aromatic, flavorful, and full-bodied - this blend is the only one special enough to be given our "house" name. This is the blend you find in our coffee shop located in Lafayette, Indiana. It's the blend that started it all, and is the reason why our flavors have spread far and wide. It's no surprise this is in our top five.
One of our verified buyers, Alexander S. from Georgia, who considers himself to be a "coffee connoisseur" says about this blend, "In all my trials, this blend by J.L. Hufford has become my benchmark. It has sweetness but it also has the power to punch through milk. It is two tiered, providing the warm chocolate notes as well as the bracing dark roast notes. It satisfies consistently. A fine and artful creation." Our Italian Espresso blend is true to the classic. Not too sweet like many Italian espresso blends these days, this one is perfect for coffee aficionados. 
Our Highlander Grogg flavor pays tribute to the Emerald Isle. With fresh crème, aged Irish Whiskey, and a special blend of spice, this blend is one of most unique and savory ones. Perfect for sipping by the fire or mixing with a little whiskey, it's no surprise this flavorful blend is our second most popular.
 
Our number one most popular blend is no surprise at all. J.L. Hufford Superautomatika Blend Coffee is solely designed for Super Automatic Espresso Machines. It perfectly merges 100% Indonesian Arabica and fine Robusta beans to deliver coffee drinks with a remarkably smooth, yet buttery finish. Superautomatika beans have a low-oil content to prevent coffee grinders from becoming clogged to ensure consistency in the coffee grounds and prolonging the lifetime of the grinder. Made by coffee connoisseurs for coffee connoisseurs, J.L. Hufford Superautomatika coffee creates the perfect balance of smooth and full-bodied cups of espresso and crema-coffee every time. This is far and away our most popular blend (we sell thousands of bags of this every year!) and our reviews speak for themselves. 
Did your favorite blend make the list? Let us know by tagging us on Instagram, Twitter, or Facebook! 
. . .
At J.L. Hufford, our coffee buyers have traveled to many coffee producing countries to find and inspect some of the world's greatest coffees. To us, all aspects of buying and processing coffee are important, like adherence to rigid quality control standards. Multiple tests are conducted on the coffee samples once they are brought back to the states. Using state-of-the-art lab equipment and trained coffee cuppers, our roasters analyze many aspects of the beans: moisture percentage, the number of defects, the bean size, and most importantly, the actual cup quality. Each flavored coffee bean is rated on over 20 different taste characteristics before we purchase a single bean. Immediately after roasting the bean, the gourmet coffee bean is packaged into nitrogen-flushed bags. This process forces nitrogen into the package, replacing the oxygen, that would otherwise quickly age the coffee. The nitrogen preserves the wonderful flavor characteristics of fresh-roasted coffee. For gourmet flavored coffee beans, flavor oils are added in a cup-tested proportion such that just the right amount of each flavor is infused into the bean during the appropriate minutes of roasting.