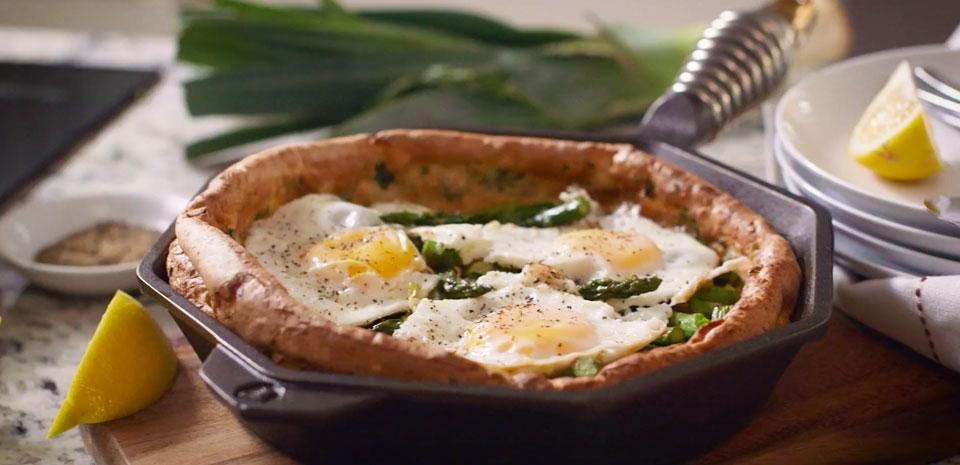 Savory Cast Iron Dutch Baby | FINEX Recipe
This deep-dish, savory spring Dutch baby is a fun and flavorful alternative to the usual breakfast and brunch fare. Fresh herbs incorporated into the batter really set this Dutch baby alight! The springy additions of leeks and asparagus are the perfect way to showcase the season's offerings so whip up a batch this weekend.
Ingredients
Dutch Baby
3 Organic Eggs
¾ Cup Milk
¼ Cup Melted Butter
¾ Cup All-Purpose Flour
1 Tbsp Minced Parsley
1 Tbsp Minced Tarragon
½ Tsp Lemon Zest
½ Tsp Salt
½ Tsp Ground Black Pepper
Sautéed Leeks and Asparagus
2 Large Leeks, Cleaned Well
1 Bunch Fresh Asparagus, Ends Cut
1/4 C Butter or Coconut Oil
Salt and Pepper To Taste
Preparation

Preheat oven to 425°F. Once the oven is fully heated, place your FINEX 10-inch cast iron skillet in the oven to heat for at least 25 minutes.
While the cast iron skillet heats, whisk eggs in a large bowl until very light and fluffy. Add milk, melted butter, flour, herbs, zest, salt, and pepper, and gently whisk until smooth.
Carefully remove hot cast iron pan from oven and place remaining 1 Tbsp butter in the pan to melt. Once foaming ceases, pour the batter into the hot pan. Immediately return the pan to the oven and bake until puffed and set, about 20 – 25 minutes.
Sautée Leeks and Asparagus

Slice leeks into ¼-inch thick rounds, white and light green parts only. Cut off bottom fourth of asparagus and discard. Cut remaining asparagus into ½ inch pieces. Pre-heat your FINEX 10-inch cast iron skillet, melt butter over medium heat. Add leeks and asparagus. Season with salt and pepper and sautée, stirring occasionally, until soft and vibrant green. Set aside. Fry three eggs for topping later.
Carefully remove the Dutch baby from the oven and decorate with sautéed leeks, roasted asparagus, and fried eggs to serve.