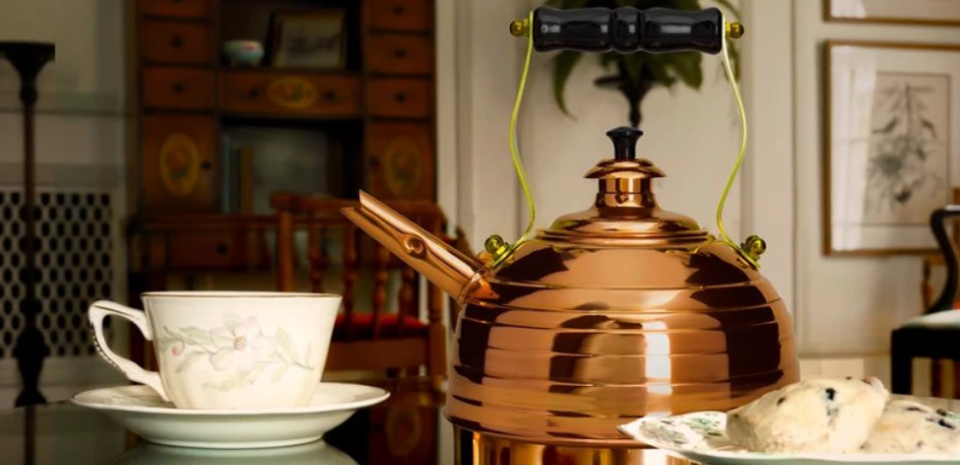 Discover the Richmond Beehive Whistling Tea Kettles
Richmond Kettle Company was founded in 1903, during the early years of the Edwardian era. Each Richmond tea kettle is made using only the highest quality pure copper, hand-crafted by English artisans. The techniques used to craft each kettle were developed over 100 years ago, and these same techniques are still used today. Each Richmond kettle available from J.L. Hufford features a melodic whistling lid that sounds when your water begins to boil, a feature that was patented by Richmond when the company first began. Whenever you make your tea, the reassuring quality of Richmond kettles will always add something extra special to your everyday occasions.
A new take on an old classic, the beehive style kettle features a beautiful, riveted domed body, as well as all the bells and whistles you've come to expect from Richmond. The Richmond kettle was first handmade over 100 years ago and is still made with the same care and craftsmanship today. Handmade in the United Kingdom from solid copper, Richmond Kettles are polished to a high gloss finish.
The Richmond Beehive Copper Whistling Tea Kettles (No. 8 - No. 11) are beautiful kettles that features a pure tin lining, solid brass fittings, ebonized beech wood handles, and Richmond's iconic whistling lid. Their true flat bottoms are suitable for gas, electric, or ceramic ranges (not induction). 
Using a tea kettle instead of a teapot has its reasons. There's something quaint and old fashioned about putting a tea kettle on the stove, while teapots are not meant to go on the stove. Often, tea kettles offer a beautiful appearance, such as demonstrated by the Richmond Beehive Tea Kettles. Teapots are usually conventional in their look. We recommend using a tea kettle if you want a sense of nostalgia in your kitchen. Richmond kettles are sure to liven up your kitchen, with their beautiful looks and iconic whistle. 
Follow these steps to make your tea in a beautiful Richmond Beehive Tea Kettle:
Heat the water in your kettle, electric water boiler (avoid microwaves if possible)
Put tea in a bag or strainer
Pour the heated water (remember some teas use different temperatures) OVER the tea.
Allow it to steep for the desired amount of time (usually on the package)
In most cases, remove the leaves - then serve and enjoy!
Let us know how you like your Richmond Beehive Tea Kettle by tagging us on Instagram! You can also search our wide variety of tea products to go with your kettle!