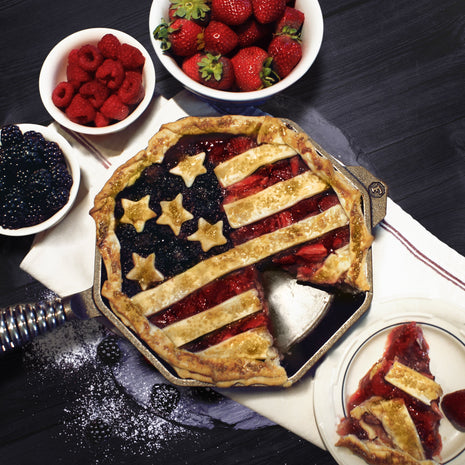 Patriotic Pie in a FINEX Skillet
Fun fact: we think every holiday get-together requires a pie for dessert!

Wrena Hufford, our Co-Founder,
whipped up a fantastic Patriotic Pie to celebrate Independence Day.
This pie is beautiful, simple, and all-around delicious!
Below, y
ou'll find a helpful tutorial video to see how Wrena made this delicious pie. Plus, we provided the recipe and directions for future use. Enjoy!
We decided to use the FINEX 10" cast-iron skillet for baking. Their 10" Skillet features an ultra-smooth, polished surface that prevents food from sticking. FINEX pans have high heat retention, allowing for even heat distribution to prevent hot spots from forming. This helped the pie to bake evenly.
The skillet's multi-angled design also made the pie easy to cut and serve. We were able to make 8 even slices without a problem!
Recipe
1 Package of pre-made pie crust (with 2 crusts)
3 C fresh strawberries, hulled and quartered
2 C fresh red raspberries
5 Tbsp. cornstarch, 1 1/2 Tbsp cornstarch
1 Tbsp vanilla extract, 1 tsp vanilla extract
Directions
Preheat the oven to 400 degrees F.

Wash your fruit. Then, hull and quarter the strawberries. Mix the strawberries, raspberries, 2/3 C of sugar, 5 Tbsp of cornstarch, and 1 Tbsp of vanilla in a bowl. Set aside once it's mixed.

Mix the blackberries, 1/4 C of sugar, 1 1/2 Tbsp of cornstarch, 1 tsp of vanilla in a bowl. Set aside once it's mixed.

Unroll one pie crust into the FINEX 10" Cast Iron Skillet

Fold a piece of aluminum foil into an "L" shape and place it into one corner of your pan. This will end up being the "blue" part of your flag.

Place the blackberry mixture into the small cornered section of your pan.

Place the strawberry and red raspberry mixture into the rest of your pan.

Remove the foil.

Dot the pie with butter.

Unroll the second crust onto parchment paper. Using a knife, cut 1/4 of the crust off and set aside. This will be for your stars.

With the remaining crust, cut approximately 1" strips. Place alternating strips onto the strawberry/red raspberry mixture to create the white stripes.

Press the edges of your crust together.

Using a small star-shaped cookie cutter, cut our your stars from the 1/4 piece you saved earlier. Place the stars on top of your blackberry mixture.

Dress up the edge of your pie crust with the remaining strips by twisting and putting them on top of the edge. (If you have more crust, you can add a braid, or cut our more stars)

Brush the egg wash onto the crust. Then sprinkle the crust with raw sugar.

Bake for 40-45 Minutes

Let it cool for 2 hours before serving.
Now it's time to gather around the table and serve this delicious dessert for your next patriotic-themed gathering. A slice of pie served with ice cream is not required, but it is highly recommended! Happy baking!
About FINEX
FINEX Cast Iron Cookware is handmade in Portland, Oregon to ensure high-quality cookware. Their founder, Mike Whitehead, was inspired by the timeless craft of antique American cast iron. FINEX pans combine the traditional cast iron with a modern touch. Their products are constructed to last for generations.
About J.L. Hufford
For over 25 years, J.L. Hufford has become a premier retailer of gourmet coffee, tea, coffee and tea accessories, cookware, cookware accessories, cutlery, and kitchen appliances. We continue to strive as a company that serves our customers not only through providing quality products on our website but also with exceptional customer service. At J.L. Hufford, we believe it's all about taste. We are passionate about helping professional, and home chefs alike find the perfect addition to their kitchen; a product that enhances flavors and helping them enjoy their culinary creation!