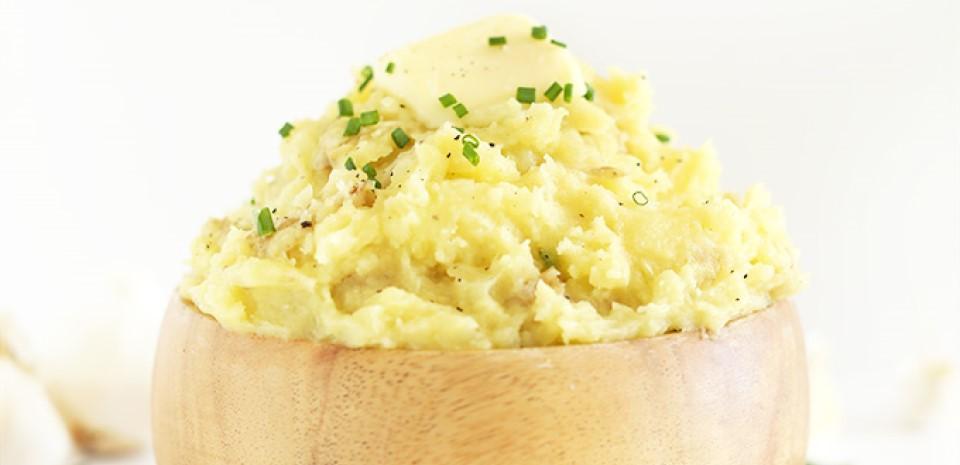 #MeatlessMonday Recipe #3: Mashed Potatoes & Gravy
In our third installment of #MeatlessMonday recipes, we're going to tell you how to make vegan mashed potatoes and gravy! Believe it or not, many mashed potato mixes are not vegan, and gravy mix usually has a meat base. So we're going to make some real mashed potatoes the old fashioned way. Follow the recipes down below!
Mashed Potato Ingredients
6-8 medium yukon gold potatoes (if large, cut in half)
1 1/2 tsp sea salt (divided)
1/2 tsp ground black pepper
5-6 cloves roasted garlic
3-4 tbsp vegan butter
1/4 cup fresh chives
Gravy Ingredients
1/4 cup vegan butter
1 medium onion (finely chopped)
1 tsp crushed garlic
4 tbsp all purpose flour
1 cup coconut milk
2 tbsp dark soy sauce
2 cups vegetable stock
1/2 tsp ground black pepper
Sea salt (to taste)
Mashed Potato Directions
Place potatoes in a large saucepan or pot and cover with water. Bring to a light boil over medium-high heat, add 1 tsp of sea salt (as original recipe is written // adjust if altering batch size), cover and cook for 25-30 minutes or until very tender. They should effortlessly slide off a knife when pierced with a knife.
While the potatoes are cooking, chop up your chives with the Carl Mertens Foreman 5" Herb Knife and measure your butter.
Once tender, drain your potatoes and place them back in the hot pot off the heat for 1 minute to evaporate any additional water. Then transfer to a large mixing bowl.
Mash your potatoes using either a potato masher or a hand mixer until fluffy. Note: Be careful using a hand mixer as you can overmix the potatoes and they can become gluey. It's personally the method I prefer as I don't own a potato masher. I just make sure not to overmix.
Add in butter, garlic, salt, and black pepper and stir to combine. Taste and adjust seasonings as needed.
Lastly top with chives, stir and serve as is or with gravy. Leftovers will keep in the fridge covered for up to a few days.
Gravy Directions
Add the vegan butter to a Heritage Steel Stainless Saucepan and let it melt. Then add the chopped onions and garlic and fry in the butter until very soft and translucent.
Mix the flour and a little of the coconut milk together and mix it into a paste. Then add the rest of the coconut milk to the paste and whisk it in so that the flour and coconut milk is well combined and free of lumps.
Then add the flour and coconut milk mix to the saucepan along with the soy sauce and vegetable stock and whisk together.
Bring to boil, whisking constantly and then let it boil for a few minutes until it thickens. You don't need it to get very thick, because you want it to be a nice pourable consistency.
Add some black pepper and then sea salt to taste.
Serve over mashed potatoes.
Recipes brought to you by The Minimalist Baker and Loving It Vegan.