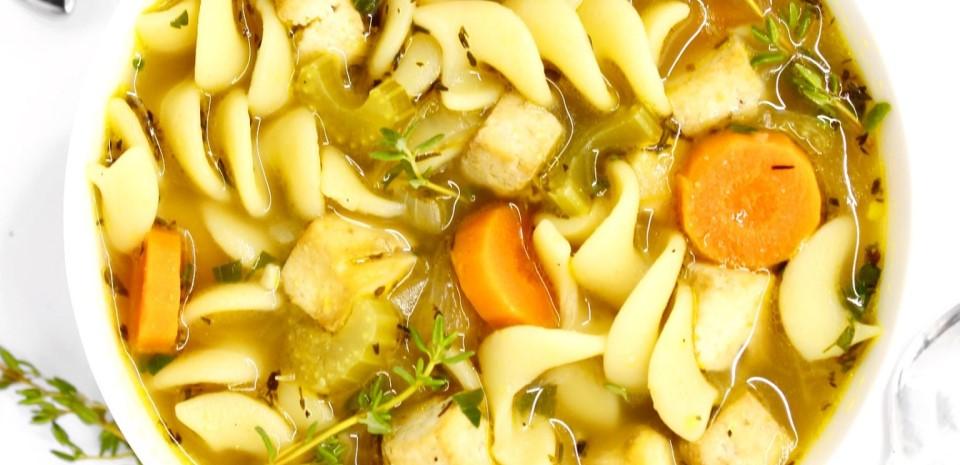 #MeatlessMonday Recipe #2: Vegan Chicken Noodle soup
November is World Vegan Month, and every Monday we're going to be bringing you a #MeatlessMonday vegan recipe! We showed you how to make a delicious chili dish for a our first #MeatlessMonday, and this time we're giving you a delicious chicken noodle soup recipe. It's flu season, and what better way to feel better than chicken noodle soup!
Ingredients
Tofu "Chicken"
1 block extra firm tofu
1 Tbsp gluten-free low sodium tamari or soy sauce
1/4 tsp dried thyme
1/4 tsp dried oregano
Soup
2 Tbsp extra virgin olive oil
1 1/2 cups carrots, peeled and chopped
1 cup celery, chopped
1 medium white onion, diced
2 cloves garlic, minced
4 cups low sodium vegetable broth
4 cups water
1/4 tsp dried thyme
1/4 tsp ground black pepper
1/2 tsp salt (omit if using full sodium vegetable broth)
1 Tbsp nutritional yeast
2-3 cups brown rice rotini pasta, dry (or any other pasta of choice)
1/4 cup fresh parsley, finely chopped
Chili flakes (optional)
Directions
Tofu "Chicken"
Preheat oven to 350F and line a baking sheet with parchment paper. Use a clean cloth or paper towel to press out any excess moisture from the block of tofu. Then, cut the tofu into small cubes.
Add the tofu pieces to a bowl with tamari / soy sauce, thyme and oregano, and toss until tofu is evenly coated. Spread onto the lined baking sheet in one layer and bake for 15 minutes. Remove from oven, toss, and bake for another 15 minutes.
Soup
In a Heritage Steel 7-ply Stainless Stock Pot, add olive oil, carrots, celery and onion, and sauté over medium heat for approximately 8 minutes, or until soft but not brown. Add the minced garlic for the last minute of cooking. Stir frequently, and reduce heat if at any point the mixture starts to brown.
Add vegetable broth, water, thyme, pepper and salt to the pot, and bring to a boil. Cover, lower heat to low, and simmer for 5 minutes.
Uncover and add nutritional yeast, rotini pasta, and baked tofu. Bring back to a gentle boil and cook uncovered for 10 minutes, or until pasta is tender.
Remove from heat and stir in the finely chopped fresh parsley. Adjust salt and pepper, and add chilli flakes, if desired.
Let us know how your candies turn out by tagging us on Twitter, Instagram, or Facebook!
Recipe from Plantiful Eating