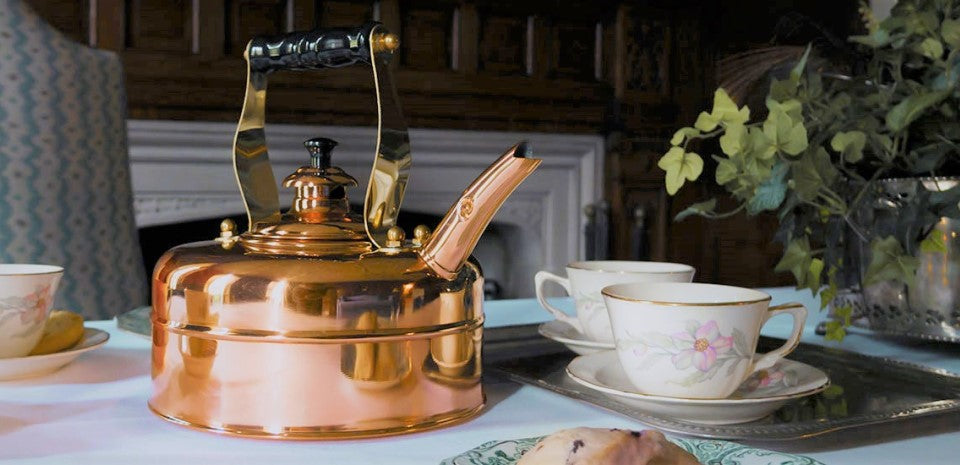 How to Care for Your Richmond Tea Kettle
Richmond copper tea kettles have been gracing homes with their elegance since 1903. Made using only the highest quality pure copper and hand-crafted by English-artisans, these kettles are meant to be the last ones you'll ever own. The durability and longevity of the Richmond tea kettles does require user care, so we want to make sure our dedicated tea lovers who indulge themselves with one of these kettles knows how to properly tend to it.
Luckily, we have the Richmond Kettle Care Kit to help you maintain the quality of your kettle for the next generation. The kit includes a copperware cleaning polish, polish cloth, Richmond kettle descaler powder, wooden scoop, and cleaning pad. You have everything you need to maintain your kettle. Read more to learn how.
Prior to First Use
Before making your first spot of tea, rinse your kettle thoroughly and fill just above the center line. Bring the water to a boil and then pour out. This will help prep your kettle to create a great batch of tea at first taste. Don't be alarmed if the bottom of the kettle becomes discolored after the first use. This is just the polishing compound used during the manufacturing process and can easily be wiped off with a soft cloth once the kettle has cooled.
Cleaning and Descaling
Should you need to descale a Richmond Kettle, never use an acidic de-scaler such as vinegar, lemon juice, etc. as this will cause harm to the 100% pure tin lining. Use the de-scaler included in the care kit instead. Never fill your kettle with cold water if it is still hot, because this will damage the pure tin lining as well. Don't use abrasive cleaners on any part of Richmond Kettles because this can cause damage to the tin lining and the copper base. Purified and balanced drinking water is recommended to reduce limescale buildup over time.
Heating Instructions
When you're using your kettle, be sure to use medium to medium-high heat for the best performance. Always make sure the heat source and the base of the kettle are proportional in size to prevent damage to the copper material. Ceramic top stoves should be monitored because their lower height settling make it difficult to control heat distribution. Also, be sure to never heat a kettle without any water in it. This will destroy it!
Copper Care
Over a period of time, the copper kettle will change color shades and develop a patina (a green or brown film on the surface of the copper, produced by oxidation). This is a completely natural process and does not affect the water prepared in the kettle. You may polish this away if you desire using the polish found in the care kit. Simply apply the cleaning polish with a damp cloth and rub until desired finish is obtained. Then rinse, dry, and buff with a clean duster.
Each Richmond kettle available from J.L. Hufford features a melodic whistling lid that sounds when your water begins to boil, a feature that was patented by Richmond when the company first began. Whenever you make your tea, the reassuring quality of Richmond kettles will always add something extra special to your everyday occasions.