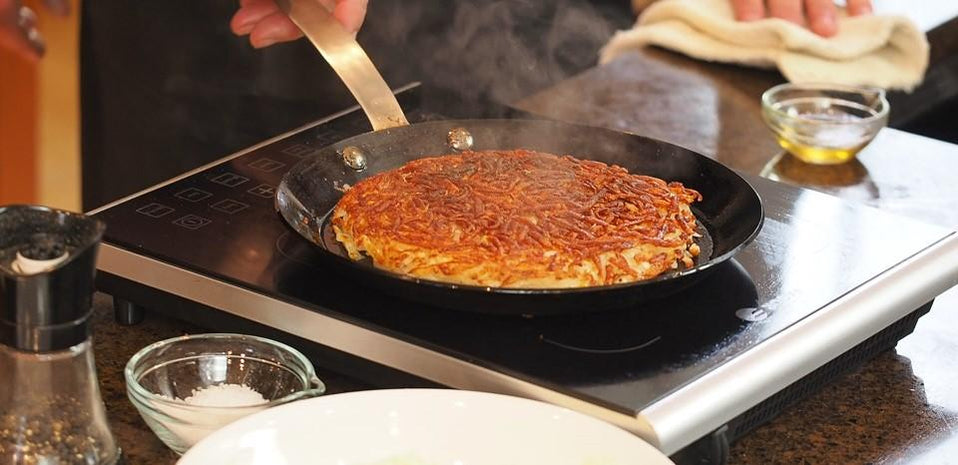 12 Delicious Potato Dishes From Around the World
Potatoes are one of the most popular foods in the whole world. They're delicious, and incredibly versatile. Mash them, bake them, cut them up - there are countless ways to cook a potato. In the United States, mashed potatoes and french fries are the most common ways to eat a potato. In other countries, they've taken potatoes to whole other levels, all of which are worth trying! Here are a few diverse and unique ways to cook a potato, inspired by various countries.
. . .
Poutine: Canada
Poutine is a delicious Canadian meal that emerged in the 1950's, and is a staple of Quebec cuisine. Consisting of fries with cheese curds topped with gravy, it's no wonder that this meal has become popular in the states and many other countries!
Ingredients
6 to 8 large Yukon gold potatoes, peeled
1 tablespoon vegetable oil, plus more for frying
1 shallot, minced
1 small clove garlic, minced
2 cups chicken stock
2 cups beef stock
2 tablespoons ketchup
1 tablespoon apple cider vinegar
1 tablespoon whole green peppercorns

½

 teaspoon Worcestershire sauce
2 tablespoons unsalted butter
2 tablespoons all-purpose flour
Kosher salt and freshly ground pepper
2 cups cheddar cheese curds
Directions
Slice the potatoes lengthwise, about 

¼

inch thick. Stack the slices and cut lengthwise into

¼

-inch-thick sticks (or cut the potatoes into fries using a french fry cutter). Place in a large bowl filled with cold water and let sit at least 1 hour, or up to 24 hours for extra-crispy fries. Drain well and pat dry or spin dry in a salad spinner.
Make the gravy: Heat 1 tablespoon vegetable oil in a saucepan over medium heat. Add the shallot and garlic and saute until translucent, about 3 minutes. Add the chicken and beef stock, ketchup, vinegar, peppercorns and Worcestershire sauce and bring to a boil.
Meanwhile, in a separate saucepan, melt the butter over medium-high heat. Add the flour and make a roux, stirring until slightly browned, 2 to 3 minutes. Whisk the stock mixture into the roux and simmer until reduced by half, about 20 minutes. Season the gravy with salt and pepper and keep warm.
Line a baking sheet with a double layer of paper towels. Heat 2 to 3 inches vegetable oil in a heavy-bottomed pot over medium-high heat until a deep-fry thermometer registers 350 degrees F (or use a deep fryer). Fry the potatoes in small batches until whitish yellow, about 8 minutes. Remove with a strainer and drain on the paper towels. Bring the oil temperature to 375 degrees F over high heat. Fry the potatoes in batches again until golden brown, 6 to 8 minutes. Drain on fresh paper towels. Salt and pepper the fries while hot. Strain the gravy.
Put the fries in shallow dishes; top with the cheese curds and gravy.
. . .
Potato à la Hasselbacken: Sweden
Potato à la Hasselbacken, or Hasselback Potatoes, were created in 1953 by Leif Ellison in Sweden. These potatoes are nice to look at, and even better to eat! You can top them with a variety of toppings, so give them a try!
Ingredients
8 tablespoons (1 stick) butter, softened

½

 cup extra-virgin olive oil

⅓

 cup finely chopped chives
Kosher salt and freshly ground black pepper
6 medium russet potatoes, scrubbed 
Directions
Preheat the oven to 450 degrees F.
Stir together the butter, olive oil, chives and some salt and pepper in a small bowl.
Place a potato between the handles of 2 wooden spoons or 2 chopsticks.
Slice the potato into thin slices, leaving 

¼

inch at the bottom unsliced; the spoon handles will prevent you from slicing the potato all the way through. Repeat with the remaining potatoes.
Put the potatoes on a baking sheet and brush on the butter mixture, making sure to get in between all the slices. Bake until tender and crisp, 55 to 60 minutes.
. . .
Rösti: Switzerland
Rösti is a delicious meal that hails from Switzerland and was originally a breakfast dish among farmers, but evolved into a classic meal eaten by everyone all over the Swiss country. Give this delicious meal a try!
Ingredients
3 tablespoons olive oil butter or ghee, divided
6 green onions roots trimmed, sliced (sometimes called spring onions or scallions)
1

½

pounds russet or Yukon gold potatoes peeled and grated
1 teaspoon sea salt

½

 teaspoon freshly ground black pepper
Directions
Trim and slice green onions, separating 1 tablespoon of greens for garnish.
Heat a non stick pan on med-high heat.
Add 1 tablespoon olive oil, butter or ghee.
When pan is hot add all the onions except reserved garnish.
Cook for five minutes, stirring frequently.
Place onions into large bowl, don't clean pan.
Peel, then coaresly grate potatoes using a food processor or box grater
Squeeze potatoes between paper towels to remove excess moisture (you may have to do this 2-3 times).
Add potatoes to bowl with onions, stir, add sea salt and pepper, stir again
Reheat pan on medium heat, adding more olive oil, butter or to coat entire bottom of pan. When pan and oil are very hot (but not smoking) add potato mixture, use spatula to form into a nice disc, pressing on the top to flatten.
Cook for ten minutes, covered with lid or foil, and rotating every few minutes to avoid hot spots.
Remove lid/foil and cook for 4-5 more minutes or until r

östi

is nice and golden on bottom.
Carefully work a spatula under the edges to loosen r

östi

, then place a plate over pan and using oven mitts carefully turn pan over so r

östi

ends up on the plate. If needed add a little more olive oil, butter or ghee to pan and slide r

östi

cooked side up back into pan.
Cook, covered for five more minutes, then uncover and cook for five more minutes or until second side is golden brown. Add more sea salt and pepper if desired. Garnish with remaining onions and serve!
. . .
Patatas Bravas: Spain
This delicious meal comes from Madrid, Spain, and is often served as a tapa in bars. Patatas Bravas has been around for centuries, a classic that has evolved into a staple of Spanish cuisine. Try it today.
Ingredients
4 medium potatoes
Olive oil (for frying, about 1-2 cups)
Salt
½ cup of homemade bravas sauce
Sauce Ingredients
⅓ cup of olive oil
1 teaspoon of pimentón picante (hot smoked paprika)
2 teaspoon of pimentón dulce (sweet smoked paprika)
1 tablespoon flour
1 cup of chicken broth
Salt to taste
Sauce Directions
Heat the olive oil in a small saucepan over medium heat.
Remove the pan from the burner before it starts to smoke.
Add the pimentón dulce and pimentón picante, and stir until they form a paste.
Stir in the flour until combined.
Add the broth little by little, stirring constantly, until the sauce reaches the desired consistency.
Season with salt to taste.
Directions
Peel the potatoes, rinse thoroughly, and dry with a paper towel.
Cut the potatoes into bite-size chunks.
Heat the olive oil in a large skillet over medium heat.
Add the potatoes and adjust the heat to the lowest setting, allowing them to pre-cook for a few minutes.
Remove the potatoes and let them cool in the fridge for a few more minutes.
Turn the heat up to high and add the potatoes back into the pan.
Fry until crispy and golden.
Transfer the potatoes to a plate lined with paper towels to cool, and sprinkle with salt to taste.
To serve, drizzle the bravas sauce over the potatoes.
. . .
Kartoffelpuffer: Germany
Kartoffelpuffer is a German food often called "German Potato Pancakes." It's a well loved dish in Germany, and even in the U.S. You can often find this delicious meal in street fests, such as a Germanfest or Oktoberfest. It goes great with sour cream, or any topping you might like!
Ingredients
2

½

pounds starchy potatoes, peeled and grated
1 small onion, finely grated
2 large eggs

¼

 cup all-purpose flour (or more if needed)
1 teaspoon sea salt
Oil
Directions
Thoroughly wring out the liquid in the grated potatoes by placing them in a colander and squeezing them with your hands or by placing them in a clean dish towel and wringing out the liquid.
Place the drained grated potatoes in a medium-sized bowl with the grated onion, eggs, flour and salt and use your hands to work it into a tacky mixture. Add a little more flour if needed. Do no let the mixture sit for long before using it, use it immediately.
Heat a few tablespoons of oil in a non-stick pan over medium-high heat and place 

⅓

to 

½

cup of the mixture (depending on size preference) in the hot pan and flatten into pancakes with the back of a spoon. Fry on both sides for 3-5 minutes until the Kartoffelpuffer are golden. Place them briefly on paper towels.
Serve immediately while hot with applesauce, fruit compote or powdered sugar. For a savory version serve with herbed yogurt, quark or creme fraiche, or with meat and gravy as part of a meal.
. . .
Riivinkropsu: Finland
Riivinkropsu is a Finnish meal that hails from Satakunta, part of the western province of this European country. It's a simple and classic casserole recipe that many people love all over the country. Enjoy!
Ingredients
2 eggs
butter (for greasing pan)
1 egg
1 cup whole milk or light cream
2 Tablespoons rice flour
1 teaspoon salt
3-6 small-to-medium potatoes, peeled and grated
Directions
Preheat oven to 350 degrees and butter an ovenproof baking dish.
In a medium bowl, lightly beat the egg and add the milk or cream, rice flour, and salt. Stir to combine and then add the potatoes. Transfer to the prepared baking dish.
Bake for 45-50 minutes. Turn the oven to broil and broil for several minutes to brown the crust.
. . .
Sag Aloo: India
Sag Aloo is a delicious dish that comes from the northern part of India. It pairs perfectly with Naan bread and a curry dish, being packed full of flavor and easy to make! This dish will spice up your dinner easily. 
Ingredients
2 tablespoon sunflower oil
1 onion, finely chopped
2 garlic cloves, sliced
1 tablespoon chopped ginger
500g potato, cut into 2cm, ¾in chunks
1 large red chilli, halved, deseeded and finely sliced
½ teaspoon each black mustard seeds, cumin seeds, turmeric
250g spinach leaves
Directions
Heat 2 tablespoon sunflower oil in a large pan, add 1 finely chopped onion, 2 sliced garlic cloves and 1 tablespoon chopped ginger, and fry for about 3 mins.
Stir in 500g potatoes, cut into 2cm chunks, 1 halved, deseeded and finely sliced red chilli, ½ teaspoon black mustard seeds, ½ teaspoon cumin seeds, ½ teaspoon turmeric and ½ teaspoon salt and continue cooking and stirring for 5 mins more.
Add a splash of water, cover, and cook for 8-10 mins.
Check the potatoes are ready by spearing with the point of a knife, and if they are, add 250g spinach leaves and let it wilt into the pan. Take off the heat and serve.
. . .
Chorrillana: Chile
Chorrillana is a Chilean dish consisting of french fries topped with different types of sliced meat, sausages, fried onions, and topped with eggs. It is a delicious meal loved by many all over Chile, and has many elements people from all over the world would love!
Steak Marinade Ingredients
3 cloves garlic, minced
2 tablespoons worchestershire sauce
2 tablespoons soy sauce
2 tablespoons sugar
¼ cup white wine vinegar
2 rib-eye, New York strip, or filets mignon steaks (8 to 10 ounces each), trimmed
Fries Ingredients
6 medium potatoes, washed and sliced into french fries.
Sea salt and black pepper to taste
Oil for frying
2 medium onions, thinly sliced
1 tablespoon oil
1 tablespoon red wine
1 tablespoon oil
4 - 6 large eggs
Sea salt and black pepper to taste
Directions
Combine the ingredients for the steak marinade in a stainless steal bowl or a glass baking dish and stir together well. Place the steaks in the mixture and then pour in enough water to cover the steaks and turn them both over once to make sure and coat them in the marinade.
Place in the fridge for a minimum of 1 hour and up to 48 hours. The longer you can let it marinade the better.
Soak the cut potatoes in large bowl of water for about 30 minutes. While they soak, heat 1 tablespoon of oil in a large skillet over medium low heat. Remove the steaks from the fridge and place them in the pan. Cook on each side for 5 to 6 minutes until the center is completely done. Remove from pan and place in a seperate dish, then cover to keep warm. Add another tablespoon of oil to the pan and add the onions. Saute for 2 to 3 minutes until browned then pour in the red wine and season to taste with salt and pepper. Turn off heat and pour the onions out into the dish with the steaks.
Now for the fries, heat at least 4 inches of oil in a large dutch oven or deep fryer until it reaches 375 degrees F (180 C). While the oil heats, drain and rinse the fries then pour them out onto a clean kitchen towel and pat dry. Once the oil is hot, fry the fries in 2 or 3 batches for 4 to 5 minutes each until they start to get soft. Drain and remove each batch from the oil to cool for about 5 minutes as you rotate the batches.
After all the potatoes have been fried once and then cooled off, begin frying each batch for a second time for an additional 5 or 6 minutes until golden brown and crispy. Drain and remove from oil and dump them onto a plate lined with paper towels. Season to taste with salt and pepper and place them on either a large serving platter or divide between individual plates.
Slice the steaks into thin strips and add back to the pan along with the onions and place over medium high heat just long enough to warm. Scoop the meat/onions onto the fries and return the pan to heat. Now add another tablespoon of oil to the pan and crack in the eggs. Fry for 2 to 3 minutes until the whites are completely cooked, or until the eggs reach your preferred doneness. Add them to the top of the meat and season the whole thing to taste with more salt and pepper. Serve immediately.
. . .
Pierogi: Poland
Pierogies are already a popular dish in the U.S., having stemmed from Poland and gaining their popularity in the states from European immigrants. Piergoies have become so popular in the U.S. that some cities have pierogi themed festivals. So make your own today!
Filling Ingredients
2 lbs. russet potatoes (5 medium), peeled

½

 teaspoon salt
2 tablespoon butter melted
2 oz. cream cheese softened

¾

 cup mozzarella cheese shredded
Dough Ingredients
1 cup warm water

¼

 cup whole milk
2 tablespoon sour cream
1 large egg
1 teaspoon salt (plus more for cooking)
4 cups all-purpose flour measured correctly
For the Toppings
4 oz. bacon chopped
2 tablespoon butter
Sour Cream to serve
Directions
Place potatoes in a pot, add enough water to cover potatoes then bring to a boil over medium/high and continue cooking 25 minutes or until easily pierced with a fork. Drain and cool 5 minutes then mash potatoes.
Mash in 

½

teaspoon salt, 2 tablespoon melted butter and 2 oz. cream cheese. Mash in 

¾

cup shredded mozzarella cheese. Partially cover and set aside while rolling out the dough.
In the bowl of a stand mixer (or large mixing bowl if mixing by hand), whisk together 1 cup warm water, 

¼

cup milk, 2 tablespoon sour cream, 1 egg and 1 teaspoon salt until blended.
Using dough hook attachment, add 2 cups flour and mix on speed 2 until incorporated. Add remaining flour half cup at a time, letting it incorporate before adding more. Add the last bit of flour 1 tablespoon at a time just until dough no longer sticks to sides of the bowl. Knead on speed 2 or by hand for 10 minutes.
Divide dough into 2 pieces. Cover the second piece with the mixing bowl and thinly roll the first piece out onto a floured surface to just under

⅛

" thickness.
Use a 3" diameter round cookie cutter to cut circles from the dough, keeping them as close as possible (collect scraps and place under the bowl to re-use). Add 

½

teaspoon of potatoes over each round.
To form pierogi, pull the 2 edges together and pinch tightly to seal. To ensure a tight seal, crimp the edges a second time with a pinch and twist motion. Cook or freeze pierogi for a future dinner (see freezing instructions in post).
Make the topping before boiling pierogi so it's ready to drizzle over pierogi to prevent sticking. In a medium skillet, saute 4 oz. chopped bacon. Once crisp, melt in 2 tablespoon butter and remove from heat.
Bring a pot of water to a rolling boil and add 1 tablespoon salt. Add fresh or frozen pierogi. Once they are floating and water is back to a boil, cook additional 3-5 minutes or until dough is very tender. Remove to a bowl with a slotted spoon drizzling buttery bacon between layers.
. . .
Gnocchi: Italy
Gnocchi is an Italian dish with a lot of versatility. It can be made from a variety of ingredients, but potato is one of the most popular. Feel free to mix and match ingredients with these potato dumplings for ultimate flavor!
Ingredients
2 lb. russet potatoes (about 4 medium), scrubbed
6-

¾ 

oz. (1

½

cups) unbleached all-purpose flour, more for kneading and rolling
1 teaspoon kosher salt
1 large egg, lightly beaten
Directions
Put the unpeeled potatoes in a large pot. Fill the pot with enough cold water to cover the potatoes by at least 2 inches and bring to a simmer over medium-high heat. Reduce the heat to medium, partially cover the pot, and simmer the potatoes until they are completely tender and easily pierced with a skewer, 30 to 35 minutes.
Drain the potatoes, let them cool just enough that you can handle them, and then peel them. Cut them in half crosswise and pass them through a ricer into a large bowl. Let cool until almost at room temperature, at least 20 minutes.
Lightly flour a work surface. In a small bowl, mix the flour with the salt. Add the egg to the potatoes and then add the flour mixture. Mix with your hands until the flour is moistened and the dough starts to clump together; the dough will still be a bit crumbly at this point. Gather the dough together and press it against the bottom of the bowl until you have a uniform mass. Transfer it to the floured surface and wash your hands.

Knead gently until the flour is fully incorporated and the dough is soft, smooth, and a little sticky, 30 seconds to 1 minute. (Don't over mix it, or the gnocchi will be tough; the dough should feel very delicate.) Move the dough to one side, making sure the surface underneath it is well floured. Cover it with a clean kitchen towel.

Cover two large rimmed baking sheets with parchment and sprinkle lightly with flour.

Remove any lingering bits of dough from your work surface and lightly reflour the surface. Tear off a piece of dough about the size of a large lemon and put the towel back on the rest of the dough so it doesn't dry out.

With the palms of both hands, roll the dough piece on the floured surface into a rope about 

¾

inch in diameter.
With a sharp knife or a bench knife, cut the rope crosswise every 

¾

inch to make roughly

¾

-inch-square gnocchi. Arrange the gnocchi in a single layer on the parchment-covered baking sheets, making sure they don't touch. Repeat until you run out of dough, reflouring the work surface as needed. When all the gnocchi have been cut and spread out on the baking sheets, sprinkle them with a little more flour. 
. . .
Gamjajeon: Korea
Gamjajeon is a Korean version of potato pancakes. Jeon in Korean means pancake, and the gamjajeon is the potato version that stemmed from Gangwon in Korea. This recipe is a simplified version of traditional Gamjajeon, but just as delicious!
Ingredients
1 large potato (8 ounces), peeled and grated
¼ cup grated onion
¼ teaspoon salt
¼ cup potato starch
¼ cup grape seed oil (or vegetable oil)
2 tablespoons soy sauce
1 tablespoon freshly squeezed lime juice (or vinegar)
1 green onion, chopped
¼ cup thinly sliced onion
1 jalapeno pepper, chopped
½ teaspoon sugar
Directions
To make the dipping sauce, combine soy sauce, lime juice, green onion, onion, jalapeno pepper, and sugar in a small bowl and mix it together until the sugar is melted. Set aside.

Put the grated potato and onion in a bowl. Add salt, potato starch and mix it together.

Heat up a 9 to 12 inch nonstick pan over medium-high heat.

Add 2 tablespoons grape seed oil and swirl the pan around to coat it evenly. Add the potato mixture and spread it thinly on the pan.

Cook a few minutes until the bottom of the pancake turns crispy and a light golden brown.

Turn it over with a spatula or flip it. Add the rest of the grape seed oil to the edge of the pancake. Shake the pan and tilt it so that oil spreads underneath the pancake. Let it cook until the bottom of the pancake turns golden brown.

Keep turning it over and cooking until both sides are crispy and light golden brown, usually about 8 to 10 minutes.

Transfer it to a plate and serve hot with the sauce.
. . .
Garbage Plate: USA

A garbage plate is a dish that hails from Rochester, New York. Although it might not sound delicious, the garbage plate is a concoction from Nick Tahou, who made the meal when a young, drunk college student came into Nick's restaurant and asked for a plate with "all the garbage on it." Thus, this delicious meal was born.
Ingredients
6 cups classic macaroni salad 
2 cups crispy home fries 
4 cups hot sauce 
12 frozen hamburger patties
12 slices American cheese
12 slices white bread
Butter softened, for buttering the bread
Ketchup, yellow mustard, and chopped onions for topping
Directions
Fire up the grill to high heat. Grill each hamburger patty 5 minutes on each side for a medium burger. Top with cheese and allow to melt for 1 minute, remove.
Now you are ready to build your magnificent Rochester Style Garbage Plate! Take a large scoop of home fries, place on one side of the plate. Next, take a large scoop of macaroni salad and place on the other side of the plate.
Top with 1-2 cheeseburgers, then raw onions and hot sauce. Finish with any desired condiments and serve with a slice of buttered bread. Enjoy your Rochester Style Garbage Plate!