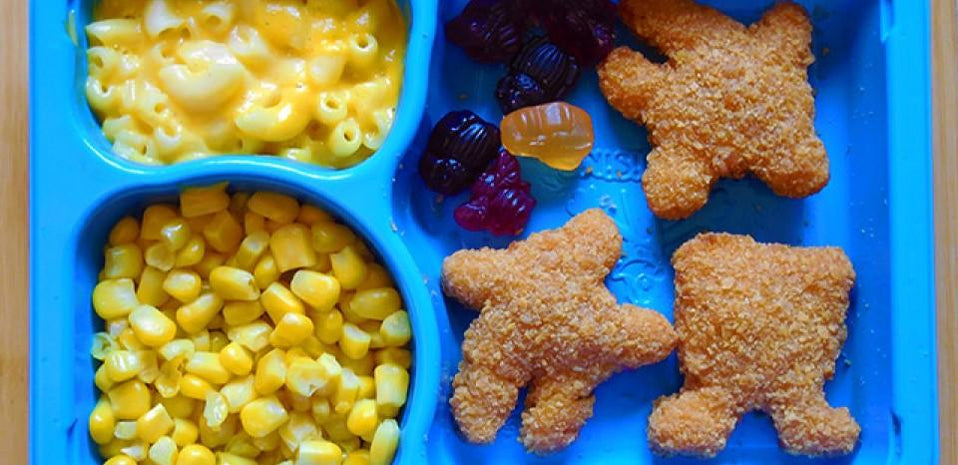 10 of Your Favorite Childhood Meals All Grown Up
Childhood is a time of delicious food and snacks. Rectangular pizza from the cafeteria, Lunchables, chicken nuggets, and so much more. Food for kids is smaller for their tiny hands, more processed, usually ready to eat or microwavable. Unfortunately, adulthood makes you question how often you can eat Kraft Mac and Cheese for dinner or if a grilled cheese sandwich for lunch will be healthy enough. While it's totally fine to indulge in kids cuisine every now and then, the down side of being an adult is having the responsibility to take care of yourself.
Nonetheless, one perk of adulthood is also cooking your own meals you decide on. While you might opt for the grilled chicken salad over chicken nuggets, it IS possible to enjoy adult renditions of your favorite childhood meals. 
Here's ten recipes to try out today!
. . .
Chicken Nuggets
Forget the microwavable chicken nuggets. Instead, opt for these healthier, parmesan coated chicken nuggets you can bake in the oven! With simple ingredients and easy instructions, these chicken nuggets will give you the satisfaction you had as a child when you ate McDonald's chicken nuggets, but without any of the guilt. Enjoy! 
Ingredients
1 lb boneless skinless chicken breasts, cut into pieces

½

 cup parmesan cheese divided in half

¼

 cup cold water

½

 teaspoon salt

⅛

 teaspoon pepper
1 cup panko breadcrumbs
Directions
Preheat oven to 400F. Line a baking sheet with foil or parchment paper and set aside.
In a food processor place the chicken breasts, 1/4 cup parmesan cheese, cold water, and salt +pepper. Pulse for 1 minute or just until the chicken is minced and everything is well combined. If you do not have a food processor, simply cut the chicken into nugget size and mix together in a bowl.
Pour the panko breadcrumbs and 1/4 cup parmesan into a shallow dish. Shape the minced chicken mixture into small nuggets and coat with the breadcrumb mixture. Line nuggets on a baking sheet and drizzle with oil or spray with cooking spray.
Bake 12-15 minutes then transfer under the broiler for 2-3 minute or until nuggets are lightly golden. Serve warm with ketchup or your favorite dipping sauce.
. . .
Sloppy Joe's
When you're a kid, the best part of a Sloppy Joe is the name itself. The older you get, the less mess there is the better, so a Sloppy Joe might not sounds as appetizing. However, we recommend swapping the messy meat mix from a can for this delicious, turkey and swiss cheese recipe. Packed full of flavor, these sandwiches will be just as satisfying as your childhood Joe's, minus the mess. Enjoy! 
Ingredients
1 tablespoon canola oil
12 ounces ground turkey breast
2 cups thinly sliced kale
1 cup chopped onion
1 tablespoon chopped fresh thyme
1 teaspoon garlic powder
4 ounces presliced mushrooms
1

½

cups of 2% milk
1

½

tablespoons all-purpose flour
3 ounces Swiss cheese, shredded

¾

 teaspoon black pepper

½

 teaspoon salt
Hamburger buns
Directions
Heat oil in a Swiss Diamond HD Fry Pan over medium-high. Add turkey; cook 6 minutes or until browned, stirring to crumble. Add kale, onion, thyme, garlic powder, and mushrooms; cook 6 minutes, stirring occasionally.

Whisk together milk and flour. Add milk mixture to pan; bring to a boil. Reduce heat to medium-low, and simmer 5 minutes or until thickened. Remove pan from heat; stir in cheese, pepper, and salt. Spoon about 3/4 cup turkey mixture onto each bun.
. . .
Cafeteria Pizza
What was it about school cafeteria that made it so delicious? Was it the rectangular shape? Either way, cafeteria pizza hit different as a kid. Baked simply in a sheet pan, the recipe we have below also calls for a sheet pan. With more sophisticated ingredients, this sheet pan pizza will bring you back to the elementary school cafeteria, when times were simpler and the only thing you had to worry about was if you got the good swing at recess instead of bills and what that noise from your car is and if you have time to go get coffee before work. Anyway, enjoy!
Ingredients
1 pound pizza dough, at room temperature for at least 1 hour
3 tablespoons olive oil
2 ounces sliced pepperoni

½

 cup tomato sauce

½

 cup spinach
3 cups shredded part-skim mozzarella cheese
1 cup finely grated Parmesan cheese
Directions
Preheat the oven and oil the sheet pan. Arrange a rack in the lowest position and heat to the oven to 450°F. Pour the olive oil into a 13x13-inch rimmed baking sheet and tilt the pan around to sort of spread out the oil.
Press the dough out into the sheet pan. Place the dough on the baking sheet and use your hands to press the dough out to the edges of the pan — it doesn't need to be perfect, but work the dough into as even of a rectangle as possible.
Use a large fork to pierce the pizza dough all over, focusing on the center, to within an inch of the edge.
Spread the sauce into a thin, even layer on the pizza, leaving some exposed dough along the edges for the crust.
Top with pepperoni and spinach (and whatever toppings your heart desires). Sprinkle on the mozzarella, followed by the Parmesan.
Bake the pizza for 20 to 25 minutes. Bake until the crust and cheese are golden-brown, 20 to 25 minutes.
Cool and slice. Cool the pizza for about 10 minutes in pan before slicing into squares and serving.
. . .
Mac and Cheese
If you were lucky, your parents may have been the kind to cook delicious, homemade mac and cheese. However, if they had a long day or were low on money, you probably just had the store bought mix in a box. As a kid, it was delicious. Now that you're older, you appreciate a good, homemade mac and cheese more. So try out this delicious spinach artichoke mac and cheese!
Kosher Salt
1 (12 oz.) box penne or macaroni
2 tablespoons unsalted butter, divided
1 small onion, grated
1 (5 oz.) container fresh baby spinach, roughly chopped
1 (8.5 oz.) can quartered artichokes, drained and roughly chopped
3 cloves garlic, finely minced
Salt & pepper
1 tablespoon flour
3 – 3 ½ cups whole milk
¼ teaspoon garlic powder
¼ teaspoon cayenne pepper, optional
4 oz. cream cheese, room temperature
1 (8 oz.) block Monterey Jack cheese, grated (about 2 cups)
1 cup freshly grated Parmigiano Reggiano cheese
Topping Ingredients
1 tablespoon butter, melted
¼ cup gluten-free breadcrumbs
¼ cup fresh Parmigiano Reggiano cheese, grated
¼ teaspoon paprika
¼ teaspoon garlic powder
Pinch of salt and black pepper
Directions
Bring an 8qt. Le Creuset Stockpot of water to a rolling boil and salt it generously. Stir in the pasta and cook for 1 minute less than the package instructions. Drain and rinse well.
Meanwhile, heat a large (12 inch) skillet over medium heat. Melt 1 tablespoon of the butter and add in the onion. Sauté the onion for 30 seconds and then add in the artichokes, spinach, and garlic. Cook the vegetables until the spinach wilts, about 30 seconds to 1 minute. Season the vegetables with salt and pepper and transfer the mixture to a plate and return the skillet to medium heat.
Melt the remaining tablespoon of butter and whisk in the flour, cook for 30 seconds. Whisk in 3 cups of whole milk and then add in the garlic powder and cayenne pepper, if using. Allow the sauce to come to a low simmer and thicken slightly – it won't be as thick as you're used to for a béchamel.
Turn the heat to low and stir in the cream cheese until it melts. Stir in the cooked pasta, vegetable mixture, Monterey jack cheese, and parmesan cheese. Remove from the heat. If the mixture is too thick, add the additional half cup of milk.
Turn on the broiler.
Mix together the topping ingredients and sprinkle it over the top of the mac and cheese. Broil the spinach and artichoke macaroni and cheese until the top is golden. Enjoy!
. . .
Hot Dogs
Hot Dogs aren't exactly just a kids meal, but there is something nostalgic about them. Hot Dogs on a summer day with a cold can of root beer and potato chips, nothing but mustard and ketchup coating your Frank - times were simpler back then. Now, you've probably had your fair share of diverse dogs, but have you had a Tex-Mex Hot Dog? This recipe below will spice up your childhood favorite by bringing you flavors from the Mexican-American border. Enjoy!
Ingredients
4 hot dog buns
4 beef Franks
1 cup roasted corn
½ cup cilantro
1 cup canned pinto beans, drained and rinsed
½ cup salsa
½ cup Darigold Mexican Crema
½ cup red onion, diced
1 red bell pepper, diced
Guacamole
Directions
Preheat Philips Avance Indoor Smoke-Less Grill, to high. Place peeled corn cobs onto hot grill. Rotate occasionally on grill as the kernels turn golden brown. Remove from grill and allow to cool until able to handle safely. Using knife cut kernels away from the cob and set aside. Keep grill on to grill hot dogs next.
Grill hot dogs until cooked through. Remove from grill, set aside.
Toast hot dog buns. Fill hot dog bun with hot dog, top with roasted corn, pinto beans, red onion, bell pepper, salsa, cilantro and Darigold Mexican Crema. Add a dollop of guac on top!
. . .
Spaghetti
Whether it was Chef Boyardee spaghetti in cups, or spaghetti thrown into a pot, chances are spaghetti was a common meal during your childhood. It was a quick meal and a cheap meal. You may have eaten it so often that you got sick and tired of it and annoyed your parents. However, spaghetti is still a delicious meal. So try out this recipe below.
Ingredients
1 lb. ground beef
1 egg
2 Italian sausage links, removed from casing
1 cup saltine cracker crumbs (crush by hand)
1 teaspoon salt
⅛ teaspoon black pepper
1 teaspoon Italian seasoning
½ small onion, finely diced
½ small onion, grated
1 large garlic clove, grated
2 tablespoons parmesan
1 cup red wine
1 green pepper sliced thin
2 - 6-ounce cans tomato paste
1 small onion sliced thin
4 cans water, plus more if needed (tomato paste can)
1 teaspoon Italian seasoning
1 teaspoon salt
2 teaspoon sugar
1 teaspoon garlic powder
1 pound spaghetti
Directions
For the meatballs: Using your hands combine, ground beef, italian sausage, egg, cracker crumbs, salt, black pepper, Italian seasoning, diced onion, grated onion, garlic and parmesan. Form into 12-15 meatballs. In a large skillet, heat 2 tbsp olive oil over a medium-high heat. Brown meatballs on all sides, remove from skillet.
Reduce heat to medium, and add in sliced onion and peppers, cook for two to three minutes until slightly wilted. Deglaze pan with red wine, scraping up brown bits as you go. Reduce heat to a simmer and cook until reduced by half. Whisk in tomato paste, cook for 1-2 minutes. Add in water, Italian seasoning, sugar, salt and garlic powder. Stir. Add meatballs back into the sauce and simmer for 30 minutes, until meatballs are cooked through and sauce is thickened. If needed add a little bit more water. Season with salt, pepper and sugar.
While the sauce is simmering bring a large stock pot of water to a boil. Add a small handful of kosher salt. Cook spaghetti until aldente.
Serve with grated parmesan cheese and chopped parsley.
. . .
Grilled Cheese
Grilled cheese sandwiches are simple yet delicious. American cheese between two pieces of white bread, as a kid that was the best meal ever. As an adult, it's still pretty satisfactory. However, now that you're older you know you can experiment with grilled cheeses, because there are countless cheeses and toppings that go great together! Below is a spinach and feta grilled cheese recipe you can try!
Ingredients
½

 tablespoon olive oil
1 clove garlic

¼

 lb frozen cut spinach 
Pinch of salt and pepper 
2 ciabatta rolls 
1 cup shredded mozzarella cheese 
1 oz feta cheese 
Directions
Mince the garlic and add it to a skillet with the olive oil. Cook over medium-low heat for 1-2 minutes, or until it begins to soften. Add the frozen spinach, turn the heat up to medium, and cook for about 5 minutes, or until heated through and most of the excess moisture has evaporated away. Season lightly with salt and pepper.
Cut the rolls in half. Add about 1/4 cup of shredded mozzarella and 1/2 oz. of feta to the bottom half of each roll. Divide the cooked spinach between the two sandwiches, then top with a pinch of red pepper flakes, plus 1/4 more shredded mozzarella on each.
Place the top half of the ciabatta roll on the sandwiches and transfer them to a large non-stick skillet. Fill a large pot with a few inches of water to create weight, then place the pot on top of the sandwiches to press them down like a panini press. Turn the heat on to medium-low and cook until the sandwiches are crispy on the bottom. Carefully flip the sandwiches, place the weighted pot back on top, and cook until crispy on the other side and the cheese is melted. Serve warm.
. . .
Happy Meal
Who didn't love a Happy Meal as a kid? A burger, fries, drink, and a toy. Nowadays, you can trade out the fries for apples, get juice instead, and find other ways to make a kids meal healthy. Might as well just get a salad. However, if you want to indulge in a Happy Meal, you can easily do that. Follow this recipe below to make your own!
Secret Sauce Ingredients
½

 cup mayonnaise
2 tablespoon French dressing

½

 tablespoon sweet relish
2 teaspoon dill pickle relish
1 teaspoon sugar
1 teaspoon dried minced onion
1 teaspoon white vinegar
1 teaspoon ketchup

⅛

 tsp salt
Burger Ingredients
2 thin hamburger patties
1

½

sesame seed buns
1 slice yellow Αmerican cheese
1 tablespoon special sauce
1 teaspoon finely minced white onion

¼

 cup shredded lettuce
2 dill pickle slices
Salt and pepper
Fries Ingredients
1 lb potatoes, sliced into fries (or one bag of precut, unseasoned fries)
1

½

 tablespoon extra virgin olive oil

¼

 teaspoon dried thyme

¼

 teaspoon dried oregano

⅛ 

teaspoon dried rosemary

¼

 teaspoon garlic powder

¼

 teaspoon Old Bay seasoning
Burger Directions
Mix all of the ingredients in a small bowl. Cover and refrigerate for an hour, at least, before serving.
Lightly toast two bottom buns.
Season the hamburger patties with salt and pepper, to taste. In a medium sized skillet, cook 1-3 minutes on each side, or until cooked through.
On the first of the two bottom buns, add ½ tablespoon of the Special Sauce, ½ teaspoon of the onion, ⅛ cup of shredded lettuce, cheese, and one hamburger patty.
Place the other bottom bun on top, and top it with the sαme items mentioned above, but no cheese. Top with the remaining bun top.
Fries Directions
Preheat your oven to 425 and line a USA PAN Sheet with foil. Spread just a bit of olive oil onto the foil to keep your fries from sticking.
Next, in a small bowl combine all spices until well blended.
Take all of the fries and place them in a gallon freezer bag. Add the olive oil into the bag and squish them around.
After you've blended the olive oil, pour the spice mix into the bag. Seal it and shake until all of the potatoes are well coated with the spice and oil mixture.
Dump the potatoes onto your foil lined, oiled cookie sheet into a single layer.
Bake at 425 for about 30-45 minutes or until light golden brown and tender.
. . .
Chicken Noodle Soup
When you were home sick, whether faking it or not, chicken noodle soup was there to save the day. It was easy to pull out the can and heat it up, and today chicken noodle soup still hits the spot. However, chicken noodle soup can easily be a gourmet meal. Follow this recipe to find out how!
Ingredients
1 whole chicken
1 package of egg noodles
1 package of butter
Salt, pepper, and garlic powder
Directions
Rinse off chicken and remove innards. Place in pot, breast down. Hold the chicken down and fill with water until covering chicken. Add five to ten shakes of salt and garlic powder. Remove chicken and heat until boiling. Place chicken in boiling water and let it boil for forty minutes. Flip chicken, continue to boil for twenty minutes. Flip over again, and boil for an additional ten to twenty minutes.
Remove pot from heat. Remove chicken. Put in cake pan and place in fridge. Clean up the broth by spooning out any skin or chunks. Bring the broth to a boil. Cook the noodles in the broth, roughly ten minutes. Lower the heat to a simmer. Add two tablespoons of butter, let melt and stir in. Add salt and pepper to taste.
Get chicken out and peel off skin. Break, rip, and tear chicken and add to the simmering noodles. Some parts of chicken will still be hot, so be careful. Add in an additional tablespoon of butter and seasoning to taste. After all chicken is added, let simmer for another 10 minutes. Serve with rolls and enjoy!
. . .
Ham & Cheese Lunchables 
Instead of having just a simple ham and cheese combo on a cracker, try building your own charcuterie board! Whether you're having guests or just feeding yourself, this idea is fun and delicious. Luckily for you, the ingredients outweigh the directions, because it's easy!
Ingredients
2 oz cheese per person
1-2 oz meat per person
One large board or flat platter
Soft Cheese - choose 2-3 types: Brie Camembert, Cambozola, Burrata, Bleu, Fontina, Goat, etc
Semi hard cheese - choose 2-3 types: Gouda White Cheddar, Manchego, Gruyere, etc.
1 spreadable cheese
8 oz package mini mozzarella cheese balls
4 oz uncured Italian salami
5 oz mild Italian hard salami
1.5 lbs grapes (combination of red, green and black grapes, seedless)
2-3 kiwi, washed and sliced
2 persimmons, washed and cut into slices
8 oz blueberries, washed and drained
16 oz strawberries, washed and drained
8 oz raspberries, washed and drained
8 oz package dark sweet cherries

½

 lb baby cucumbers cut into 1/2 inch chunks
2 baguettes sliced
1 package of crackers of your choice
1 package of salted almonds
Seasoned cashews 
Preserves and spreads of your choice
Directions
Gather Wusthof Rubberwood Board, small bowls, appetizer forks, spreaders, etc.
Clean the board or surfaces to be used and dry thoroughly.
Wash and thoroughly drain any veggies and fruits being used. Gently pat dry.
Unwrap any cheese and meat being used.
Slice cheese and meat.
Start at center of board and arrange items on board, Try to set contrasting colors and shapes together to create more visual interest.
Replenish board as needed.
You can find all of your tools and utensils at jlhufford.com. Let us know how your grown up meals turn out by tagging us on Instagram and Twitter!