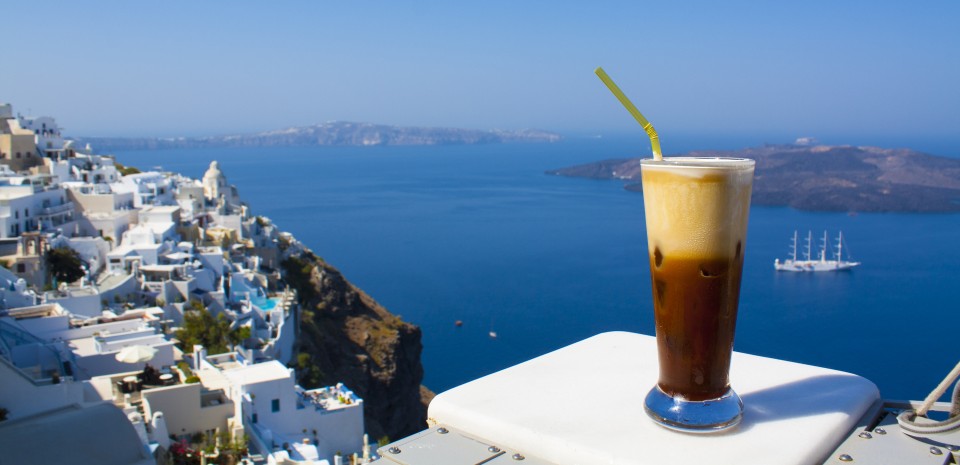 What is a Freddo Espresso? Discover the Deliciously Cool Greek Beverage.
Picture yourself walking down a cobblestone pathway, the Aegean Sea to your left and white, stucco buildings to your right. It's warm, sunny, and you're in the mood for a refreshingly cold drink. You stop in at a cafe with friends, sit at a table outside, and you order a Freddo Espresso. It's black with a bit of foam, and everyone in this Greek city is drinking one.
Coffee in Greece is a popular beverage. Cafe Frappe was the notorious, iced coffee drink in Greece, when instant coffee is shaken with cold water. Now it's common to see espresso in everyday lives in Greece. 
Konstantinos Iatridis, a Greek Barista Champion, says:
"It's an iced coffee beverage based on espresso. We're blending the espresso with ice, by shaking them in a mixer, so we can get a creamy texture and achieve a better homogenization, rather than just throw a shot of espresso on ice cubes, like they do in other countries. You have to be careful though with the ratio of coffee and ice cubes. You don't want your coffee to be diluted, but just to get cold. It's a solid coffee beverage that if you drink it without sugar, as we recommend it, you can really appreciate the espresso which it is made of."
Here's how to make it:
Freddo Espresso
Pull a double shot of espresso from your espresso machine.
In a shaker, add 4 ice cubes and the shot of espresso.
Mix for about 10-20 seconds, depending on how much foam you want to get in your beverage.
Strain into a glass filled with ice cubes.
It's easy, and delicious! Give yourself the pleasure of this classic in Greek coffeehouses. We recommend using Superautomatika for your delicious Freddo Espresso.