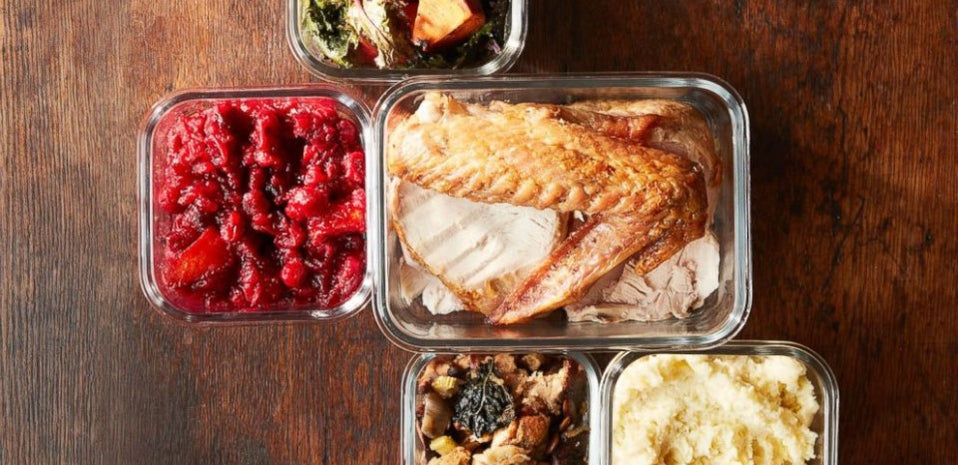 Turn Your Holiday Leftovers into Another Meal
As the holidays come to a close, your tupperware is becoming sparse and your fridge is becoming full. It's leftover season, and while some foods taste great as leftovers, some do not. After a few days of eating leftovers, the same thing can get old, and you might find yourself throwing out perfectly fine food (because you know that even if you convince yourself you're going to eat leftover turkey for the third day in a row you aren't). So what do you do with those leftovers? The answer is simple - turn them into another meal!
Here are a few ways to turn your holiday leftovers into another meal. Give them a try!
. . .
Green Bean Casserole (and other vegetables)
Soggy vegetables are not appetizing, which is a shame for how delicious they are when fresh. Green bean casserole is a classic, and it might be rare in your household to have any leftover! That being said, the best way to salvage leftover vegetable dishes is by throwing them on the grill! 
We recommend throwing them into a cast iron skillet, such as the FINEX 10" Cast Iron Grill Pan. By grilling your veggies in this skillet, whether on the stove top, grills, or even coals, you'll get a delicious, smoky taste and prolong the life of your vegetable dishes.
. . .
Ham
While Thanksgiving has its turkey, often around Christmas families pull out a delicious ham. Most likely with ham, there are leftovers, and eating the same reheated ham can get very old very fast. We recommend using that ham for your breakfast! Ham is a very underrated breakfast meat, so we recommend dicing up your leftover ham. Sauté in an ICON Carbon Steel Sauté Pan with potatoes, and whatever other ingredients you would want like onions or cheese or spinach. When you're done, throw a few fried eggs on top and your breakfast is ready!
. . .
Mashed Potatoes
When it comes to the beloved mashed potatoes, your best option is turning them into delicious potato pancakes! Potato pancakes are a universal food, with countless cultures and countries having their own variation on the dish. All you do is mix your mashed potatoes, an egg, 1/4 cup of flour, salt, pepper, garlic, and any optional ingredients. Preheat your skillet with oil, and pour a 1/4 cup of batter into the skillet. Let it brown on both sides, and there you have it! Pair these pancakes with sour cream or applesauce and enjoy.
. . .
Macaroni and Cheese
When it comes to macaroni and cheese, it's rare to find leftovers, and even if you have leftover man 'n' cheese you're also bound to enjoy them reheated. Still, it might be best to turn them into something else, such as mac 'n' cheese balls! Mac 'n' cheese balls are a fun alternative to a classic, and easy to make! All you do is roll your leftover mac 'n' cheese into balls, dredge in beaten eggs, dip in bread crumbs, and fry! Now you have a whole new meal!
. . .
Rolls
When it comes to your rolls, after even just one day it can be tempting to toss out the leftovers. However, we recommend turning your leftover rolls and other kinds of bread into croutons. Use the Carl Mertens Country Bread Knife to cut your bread into cubes. Preheat oven to 375 degrees, spray butter on a baking sheet, drizzle bread with seasoning you desire, and then bake! You can turn over your bread after five or six minutes and then continue cooking. Let them cool, and then store them in an air tight container, like the Carl Mertens Jar Storage Container. Serve with your favorite salad!
. . .
Fruit Cake
Fruit Cake is guaranteed to be a leftover, it might not even be eaten. So what do you do with it? The best option is to use it for french toast! Here's how:
Ingredients
1 cup whole milk
3 eggs
1 tsp vanilla extract
1/4 tsp ground nutmeg
1/4 tsp ground cinnamon
1/2 tsp salt
1/3 cup flour
3 Tbsp butter
8 (1/2") fruitcake slices
Warm maple syrup, for serving
Directions
Whisk together the milk, eggs, vanilla, nutmeg, cinnamon, and salt in a shallow dish. Set aside.
Put the flour in a shallow dish. Melt the butter in a skillet on medium heat.
Dredge a fruitcake slice in the flour, then dip it in the batter. Dredge the fruitcake in the flour again, followed by a dip back into the batter.
Place the battered fruitcake into the skillet. Repeat with remaining fruitcake slices. Cook until they're golden brown, then flip and cook until golden brown on other side.
Serve with warm maple syrup.