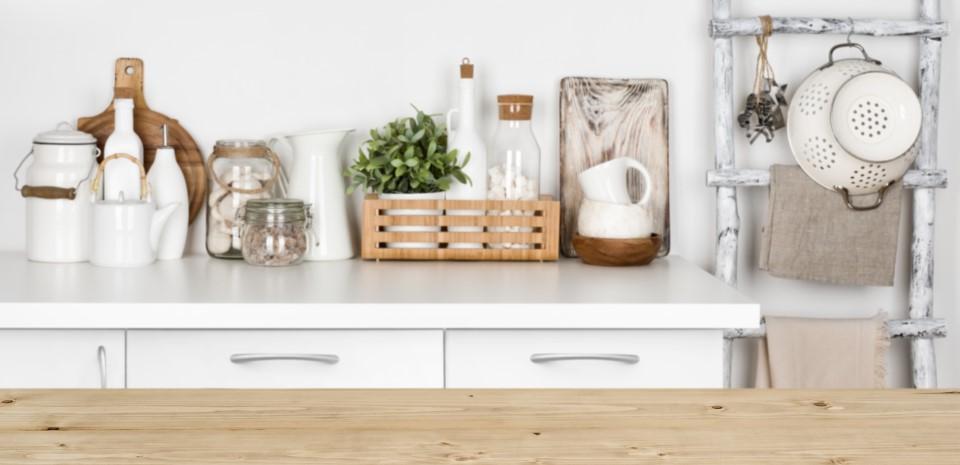 9 Kitchen Appliances Everyone Should Have
Tis the season of giving, and often times some of the best gifts are the most practical. What's more practical than kitchen appliances? If you're unsure of what to get a friend or relative, take a glance around their kitchen and see what they don't have, or what could use an upgrade. Kitchens are the heart of a home, and should have these nine products to be the perfect kitchen!
Coffee Grinder
The majority of people everywhere drink coffee. What better gift than a nice coffee grinder?  We recommend the Capresso Coffee Burr Grinder. Get uniform and consistent grind-quality that has more aroma and flavor with the Coffee Burr Grinder from Capresso. This sturdy steel disc grinder features 16 grind settings from fine to coarse. The bean hopper has an 8 oz. capacity and features an auto safety function that shuts off the grinder when the lid or container is removed.
Shop our entire collection of coffee grinders!
Vitamix Blender
A blender is a necessity for a kitchen, but a Vitamix blender is the way to go. Vitamix is committed with producing powerful, high-quality machines and accessories for every household. Each premium component of a Vitamix blender has been tested for quality and strength to ensure you're getting the best out of your investment. Whether you're making a smoothie, juice, salsa, sauce, or even homemade nut butter at home, Vitamix is here to help.We recommend the Vitamix Ascent A3500 Blender. Featuring a 2.2-horsepower motor, this bad boy will blend anything you throw at it in short order. Its new Smart-Detect system makes blending safer because the machine senses the container and won't run unless a proper container is present. It also self-adjusts the time and speed of pre-programmed blends according to which size container is present..
Shop all of our Vitamix products. 
Slow Cooker
A slow cooker is the perfect machine if you want to cook something with little to no effort. Throw it into the slow cooker, let it cook, and after a while of being productive elsewhere, your food is ready! We recommend the Heritage Steel 5-Quart Oil Core Electric Slow Cooker. With this large stock pot, you can cook large batches of soups, stews, and stocks. This is the only type of cooker you'll need (or want!) to buy. Heritage Steel is a Hammer Stahl collection, and as a family-owned business, Hammer Stahl is focused on building happy and healthy households through good food. They believe cooking at home is a wonderful value that brings families together. Their cookware helps to produce five-star restaurant quality food in your home.
Shop all of our slow cookers. 
Toaster Oven
A toaster oven is a quick and easy way to heat up certain kinds of food, but especially bread, and who doesn't love bread? We recommend the Wolf Gourmet Elite Countertop Oven. The Wolf Gourmet Elite Countertop Oven's extensive capabilities and features deliver the precision, quality, and look of a Wolf Range, but on your countertop. Six different modes give it the flexibility to proof, warm, roast, bake, broil, and toast, accommodating most 9" x13" casserole dishes. The key to even cooking is its 5 heating elements and advanced electronics. The temperature controls have been precisely calibrated for every mode to deliver the best cooking performance. 
Shop all of our toaster ovens.
Electric Grill
An electric grill is perfect for when you want that grilled taste but without the trouble of going outdoors. We recommend the Philips Avance Indoor Smoke-Less Grill. The Philips Avance Collection Indoor Grill is just what you need for grilling indoors - no matter what the weather is. The infrared heat technology means there's almost no smoke, and the special heat reflectors ensure that your food grilled evenly on all sides. This grill comes with a non-stick ALU grid, so you'll have perfect grill marks. It also pulls excess fat away from your food - making it much healthier than food cooked on a flat surface. The excess fat collects in its own tray for easy clean up. Speaking of easy cleanup, the detachable parts are dishwasher safe, making clean up a breeze. You'll wonder how you ever cooked without the Avance Indoor Grill!
Shop all of our electric grills. 
Air Fryer
Air frying has become a trend recently, and for good reason! It's a healthier way to get delicious, crispy fried foods and with less mess too. We recommend the Philips Viva AirFryer Oven. The Philips Viva Collection Airfryer gives you a whole new outlook on fried foods, allowing you to eat healthier without giving up the taste and texture of your favorite foods. Utilizing all-new Rapid Air Technology the Airfryer is able to fry, bake, roast and grill all while only using a tablespoon or less of oil making it your new go-to solution for fast and healthy meals or snacks.
Shop all of our fryers. 
Espresso Machine
An espresso machine is a great idea for anyone who might need an extra shot at the ready. We recommend the Capresso EC300 Pump Espresso and Cappuccino Machine. This is the perfect choice for crafting delicious coffee house style beverages from the comfort of your own home. The illuminated control knob makes operation fun and easy. Brushed stainless steel accents and heavy-duty construction make the EC300 the centerpiece of any household coffee bar. A large warming platform keeps cups at the perfect temperature while the removable water tank makes refilling simple. The easy to clean drip tray catches any wasted liquid and includes a handy water level indicator to avoid messy spills. The EC300 combines style and function to upgrade your in house brewing experience. This machine is meant to make you feel like your own barista by crafting your favorite gourmet coffee specialties from the comfort of your own home.
Shop all of our espresso machines. 
Multi-Cooker
A multi-cooker has the benefits of a slow cooker, but also more! You can use it as a rice cooker, pressure cooker, and steamer. We recommend the Zavor LUX Multi-Cooker. The LUX combines the convenience of a pressure cooker and a rice cooker with the flavor-infusing power of a slow cooker and yogurt maker for an amazing one-pot cooking experience. Food will maintain its natural color and flavor while cooking your meals in up to 70 percent less time. The Zavor LUX has a self-locking lid that locks with the turn of the handle. The lid will remain locked while there is pressure inside the unit and will only open when all pressure has been released.
Shop all of our multi-cookers.
Tea Kettle
While electric kettles exist, we think a classic stovetop kettle is perfect for anyone. We recommend the Richmond Heritage Chromed Copper Whistling Tea Kettle - No. 2. The Richmond Heritage No. 2 Kettle is hand-crafted from copper and plated with a sparkling mirror chrome finish. Featuring a mirrored chrome finish over solid copper, this handmade Number 2 Kettle offers all the benefits of copper with surfaces that are much easier to maintain. This beautiful 1.7 L capacity kettle features a nickel lining for corrosion resistance and an ebonized beech wood handle. The whistle is built into the lid. Each Richmond kettle features a pure tin lining that was applied by hand. Easy cleaning. The flat bottom is suitable for gas, electric or ceramic ranges (not induction)
Shop all of our tea kettles. 
Happy holidays and happy shopping!