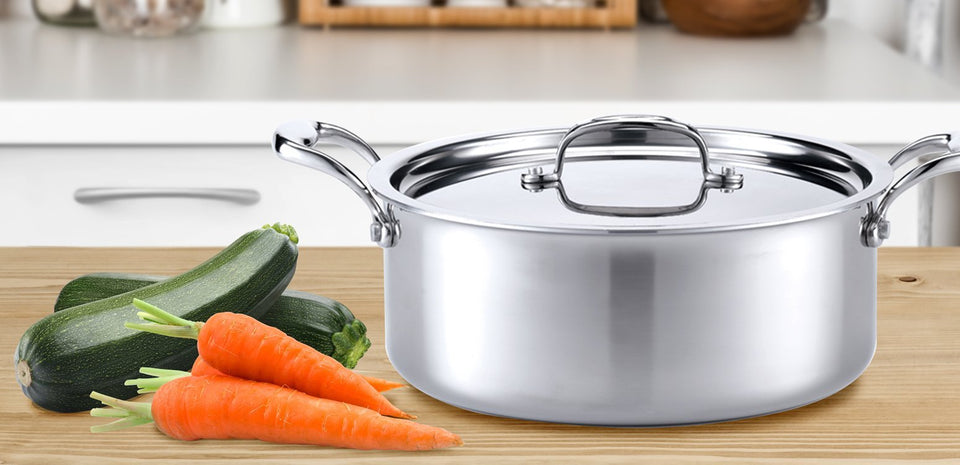 Spaghetti with a Twist
Pasta is a classic meal, loved around the world, and the first written record of pasta can be dated all the way back to the 5th century. Out of all the different kinds of pasta out there, spaghetti is the most famous one. The popularity of spaghetti spread throughout Italy in the 19th century, and not until the late 19th century in the United States. Today, spaghetti is a quick, low-cost meal families love. So this spaghetti recipe is like no other, but still offers that delicious, classic spaghetti taste we all know and love.

Ingredients
1 lb. spaghetti

1 tbsp. olive oil

2 garlic cloves, chopped

1 carrot, chopped


1 red onion, thinly sliced

2 zucchini, sliced


1 tbsp. tomato paste

1 can diced tomatoes

1 tsp. Italian seasoning

1/4 tsp. red pepper flakes

Salt

Pepper

Grated Parmesean
Directions
Prepare spaghetti according to the box instructions, reserve a cup of the pasta water.
Heat oil in Heritage Steel Rondeau and add garlic, cook about a minute or until fragrant
Add sliced zucchini, red onion, and chopped carrots - cook until soft, about 7 minutes
Stir in tomato paste and diced tomatoes
Season with red pepper flakes, Italian seasoning, salt and pepper, allow to simmer for 10 minutes.
Toss spaghetti in the sauce, adding 1/2 cup of pasta water back in to thicken or more as needed.
Top with fresh grated parmesean and serve
The best part of this recipe is its versatility in ingredients. You can mix it up and throw in whatever kind of vegetables you want. Try out a taco theme with some beef, cilantro, and peppers. Or try out a hamburger night with beef, american cheese, and onion!
Cooking in a rondeau is a fun way to try new things. We recommend the American Clad 7-ply Stainless Rondeau. Every American Clad product is multi-clad stainless steel, making no compromises in design or materials, for a premium product. The pans are induction-ready and oven safe. The seven layer construction creates an excellent conductor that quickly provides evenly distributed heat while remaining beautiful. The interior is made of a single layer of 18/10 stainless steel, ensuring your meal comes out tasting delicious. The handles are stainless steel multi-ply and reinforce the pure and modern design.
Hopefully you love this recipe, and this product, as much as we do!