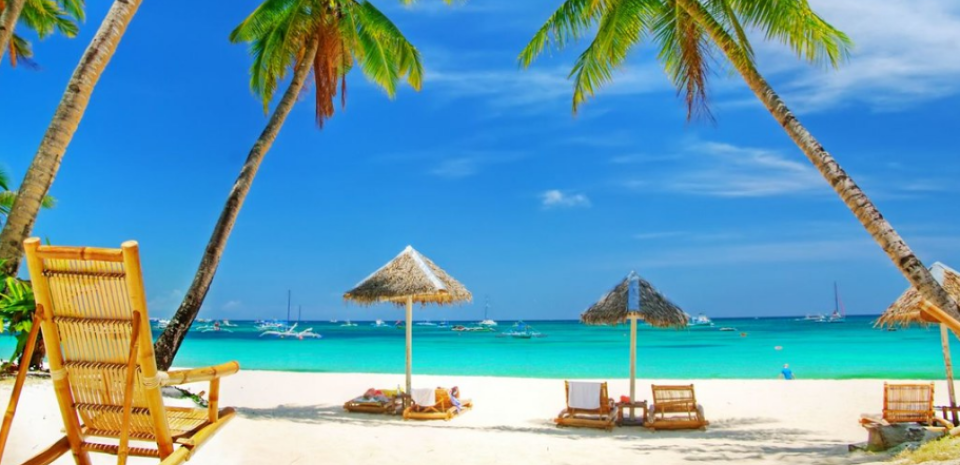 5 Recipes to Try If You Want to Feel Like You're on a Beach
Winter is upon us, and while some people love this season, many more people do not. Driving through the snow, slipping on ice, having the harsh winds blow against your face, wearing layer upon layer only to still be cold - winter is not easy. You wish of being on a beach, with a bright blue sky, golden sand, clear water, colorful flowers, and a tropical climate to keep you warm. If you want to pretend you're in paradise, try cooking up some of these foods! 
...
Ahi Tuna Poke Bowl
Ingredients
1 pound sushi grade ahi tuna, cut into 3/4 -inch cubes
1/4 cup soy sauce
1 teaspoon rice vinegar
1 1/2 teaspoons sesame oil, La Tourangelle
3/4 teaspoon red pepper flakes, crushed
1/3 cup green onions, thinly sliced
1/2 teaspoon sesame seeds, plus more for garnish
2 cups brown rice, or white rice, cooked
2 cups salad greens
Directions
In a medium-sized bowl combine ahi tuna, soy sauce, rice vinegar, sesame oil, crushed red pepper flakes, green onions and sesame seeds.
Serve immediately or refrigerate covered for up to 2 hours before serving. Toss to recombine in the sauce before serving.
Add cooked rice, salad, poke and desired toppings to each bowl.
...
Pineapple Glazed Jerk Chicken
Chicken Ingredients
3 lb chicken drumsticks
2 tsp Jamaican Jerk seasoning
4 clove garlic minced
3 Tbsp olive oil
2 Tbsp brown sugar
salt and black pepper to taste
Glaze Ingredients
2 Tbsp butter
1 large shallot minced [or 1/4 cup red onion]
3 Tbsp red bell pepper small dice
1 [12] oz jar pineapple preserves
2 Tbsp apple cider vinegar
2 Tbsp brown sugar
1/2 tsp red pepper flakes [or to taste]
Directions
Preheat the oven to 375°F. Use an oven safe grill pan, broiler pan, or jelly roll pan fitted with a rack. Spritz liberally with cooking spray. Set aside.
Rinse and pat dry the chicken drumsticks. Mix together the Jamaican Jerk seasoning, minced garlic, olive oil and brown sugar to form a paste. Rub on all sides of the chicken. Season with salt and pepper to your taste.
Place onto the pan. Sprinkle the top with additional seasoning, if desired. Bake for 30 minutes.
While the chicken is baking make the glaze. Saute diced shallot or red onion with the red pepper in 2 Tbsp butter until softened, around 4 minutes, Season with salt and black pepper to taste.
Add the remaining ingredients, mix well. Simmer for for 10-15 minutes until reduced by 1/4 then remove from the heat.
After baking the chicken for 30 minutes, brush with the glaze. Turn and brush the other side with glaze.
Bake an additional 10 minutes or until the juices run clear.
Remove from the oven and rest loosely tented with foil for 10 minutes before serving. Serve leftover glaze warm on the side if desired.
...
Mexican Style Shrimp Cocktail
Ingredients
2 Lbs Jumbo Shrimp
2 Celery Stalks, (sliced thin)
1 Jalapeno, (seeded, finely chopped)
1 Cucumber, (chopped)
2 Avocados, (peeled, pitted, chopped)
2 Handfuls Fresh Cilantro, (chopped)
1/2 Small White or Yellow Onion, (finely chopped)
2 Limes, (juice & zest)
1 Orange, (juice & zest)
11.5 ounce Can Tomato Juice
1/2 Cup Tomato Sauce
2 Garlic Cloves, (grated)
Favorite Hot Sauce, (to taste)
Salt/Pepper, (to taste)
Directions
Bring large pot of water to a boil. Add shrimp and boil until shrimp curl into a loose 'C' shape and are cooked through. Time will vary depending on size of shrimp. Drain and transfer to ice or run under cool water. Cut shrimp into bite sized chunks.
In large bowl combine shrimp, celery, jalapeño, cucumber, avocado, cilantro and onion.
In separate bowl combine lime juice, orange juice, tomato juice, tomato sauce, garlic, hot sauce, salt and pepper. Pour into shrimp mixture and stir.
Chill for 1+ hour then serve.
...
Guava Cake
Ingredients

1 strawberry cake mix

1 1/3 c. guava nectar or guava juice
3 eggs
1/3 c. coconut oil room temp (liquid)
For the Cream Cheese Layer:

8 oz. cream cheese softened

1/3 c. sugar
1 tsp. vanilla
8 oz. Cool Whip thawed
For the Guava Gel Topping:

2 c. guava nectar or guava juice

1/2 c. sugar
1/4 c. cornstarch
3 Tbsp. water
Directions
In a mixing bowl, mix together cake mix, guava juice, eggs, and coconut oil until well combined.
Bake in a 9x13 glass baking dish according to cake mix package directions.
In a medium mixing bowl, beat cream cheese with hand mixer until fluffy.
Add sugar and vanilla and mix well.
Slowly fold in the Cool Whip and refrigerate until ready to use.
In a medium saucepan, bring the 2 cups guava juice and sugar to a boil.
Make a slurry out of the cornstarch and a small amount of water
Remove guava juice from heat and stir in the cornstarch mixture.
Return to heat and bring back to a boil and boil for one minute. Cool in refrigerator.
When cake has cooled, spread cream cheese mixture evenly over cake.
Glaze the top of the cake with guava gel. Refrigerate until ready to serve.
...
Paloma Cocktail
Ingredients
kosher salt
2 fluid ounces silver tequila
juice of half a grapefruit (we prefer ruby red grapefruit)
1/2 fluid ounce of simple syrup
a squirt of fresh lime juice
2-3 ounces club soda
lime and or grapefruit slices for garnish and rim 
Directions
Pour some kosher salt on a plate. Rub a slice of grapefruit or lime on the rim of a glass and dip rim of glass into the salt.

Using a Carl Mertens Shaker, combine tequila, grapefruit juice, lime juice, and simple syrup; stir until well mixed. 

Pour over ice filled glass and top off with club soda. Garnish with grapefruit and or lime wedge.