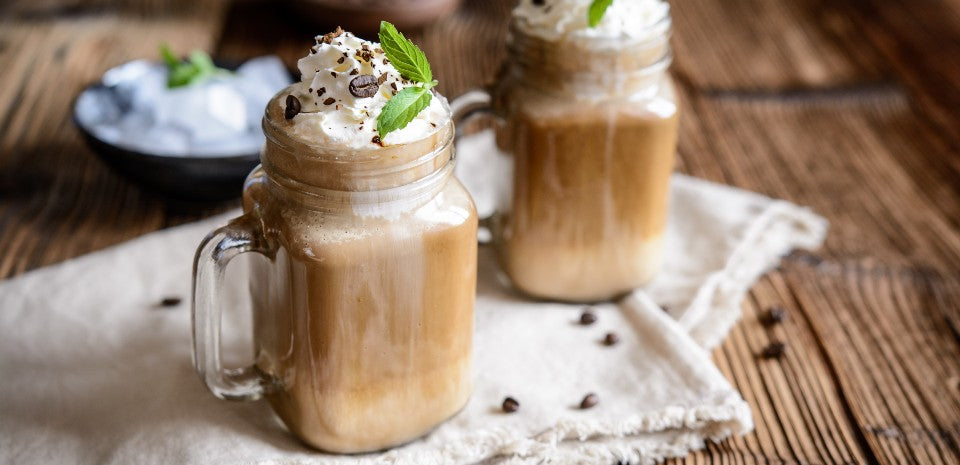 8 Iced Coffee Recipes You Have to Try
Iced Coffee Weather is upon us! That means it's the best time of year to indulge yourself on a cool, caffeinated, cup of coffee. Whether you just love a classic iced coffee or an iced caramel mocha, cold coffees are just as great as hot coffees! If you've ever wanted to make your own iced coffee at home, then here are different recipes you can try! 
Iced Caramel Mocha Latte
Brew eight ounces of Jcoffee.
Add Cappuccine Frappe Mix in Chocolate Decadence and caramel ice cream topping to coffee.
Whisk together to combine.
Pour coffee mixture into a glass over ice.
Fresh Mint Iced Coffee 
Brew cold brew concentrate. Click here to learn how!
Pour 2.5 tablespoons of Davinci Chocolate Mint Syrup over ice
Pour in cold brew concentrate and then cream, stir together
Coconut Horchata Iced Coffee
Pour in coffee brew of your choice over ice
Mix in coconut horchata
Sweeten to taste
Cinnamon Vanilla Upside Down Iced Coffee
Mix desired amount of whipped topping and cinnamon until blended. Add to the bottom of a freezer friendly cup. Put the cup in the freezer for about 15 minutes.
Remove the cup and add desired amount of ice and J.L. Hufford Coffee
Iced White Chocolate Mocha
Blend brewed coffee, Big Train Blended Ice Coffee in White Chocolate, and a touch of milk together.
Add the ice.
Top with whipped cream.
Salted Caramel Iced Latte
Fill a tall glass of ice 3/4 full with coffee
Add 3-4 teaspoons of milk
Add 2 teaspoons caramel syrup + a pinch of sea salt
Add enough half and half to top off you glass, stir, and taste.
Raspberry Iced Coffee
Mash fresh raspberries in a bowl with a fork.
Combine brewed coffee, raspberry mixture and a handful of ice in a shaker and stir until chilled.
Fill 2 glasses with ice, pour the milk into the bottom of each glass (reserving the froth).
Top with the coffee and raspberry mixture.
Maple Iced Coffee
Pour a tablespoon of maple syrup and a tablespoon of cinnamon sugar into ground coffee. Brew the coffee.
Let chill for fifteen minutes and then pour over ice. 
Do you have any favorite iced coffee recipes? Let us know!