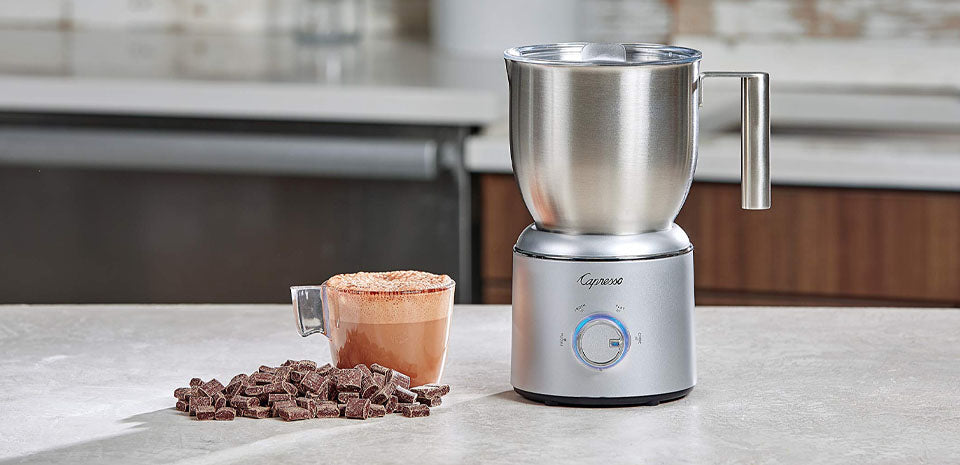 Every Bougie Mom Needs a Milk Steamer and Here's Why
Every Bougie Mom Needs a Milk Steamer and Here's Why
If you're a bougie mom, then you know that nothing is more important than making sure your family has the best of the best. That's why you only buy organic produce, grass-fed beef, and free-range chicken. It's also why you make your own baby food and why you only use the most luxurious bath products on your little ones. So, when it comes to choosing a milk steamer for your family, you definitely want to choose one that is top of the line. That's why we recommend the Capresso Froth Select Automatic Milk Frother & Hot Chocolate Maker. Keep reading to find out more about why this milk steamer is the best option for bougie moms like you!
Get the best of both worlds with the Capresso Froth Select Automatic Milk Frother & Hot Chocolate Maker, it is both a milk steamer and frother. It is the perfect milk steamer for bougie moms because it is made with high-quality materials and it has a lot of features that other milk steamers don't have. The Capresso Froth Select is the first automatic milk frother with a special hot chocolate function that can accommodate chocolate chips and chunks to create frothy hot chocolate and more. It offers more versatility, with one-button operation and illuminated controls. There are four settings to choose from: cold froth, hot froth, hot milk or hot chocolate. It comes with two frothing disks and one heating disk, which store securely in the bottom of the base. By using different disks with different settings, the user can control and vary milk texture for trendy flat whites, cappuccinos, lattes, hot cocoa and more. The removable see-through pitcher with stay-cool handle has a large capacity, accommodating 10 ounces for frothing or 14 ounces for heating. It is BPA free and dishwasher safe for everyday convenience - another important consideration for busy moms like you! 
And, if that wasn't enough, it also has the dual auto-shut off  feature for safety so that you never have to worry about whether or not you turned off the steamer. We know that as a mom, peace of mind is important - and this milk steamer will give you just that! 
Other Considerations 
In addition to all of the amazing features we just mentioned, there are a few other things that make the Capresso Froth Select Automatic Milk Frother & Hot Chocolate Maker a great choice for bougie moms. Capresso defines the ultimate in home coffee equipment with its innovative coffee makers, espresso machines, coffee grinders, automatic water kettles and other kitchen electrics for those who want the best. The Capresso brand is marketed by JURA Inc., the U.S. leader in premium coffee equipment for the home. 
Conclusion
The Capresso Froth Select Automatic Milk Frother & Hot Chocolate Maker is the perfect choice for bougie moms who want only the best for their families. The Capresso froth Control makes it fun and easy to create your own custom recipes, including flavored hot chocolate, flavored steamers, matcha latte, hot apple cider and iced fruit lattes. With its high-quality construction, easy-to-use features, and beautiful design, this milk steamer will help you make delicious beverages that your whole family will love!