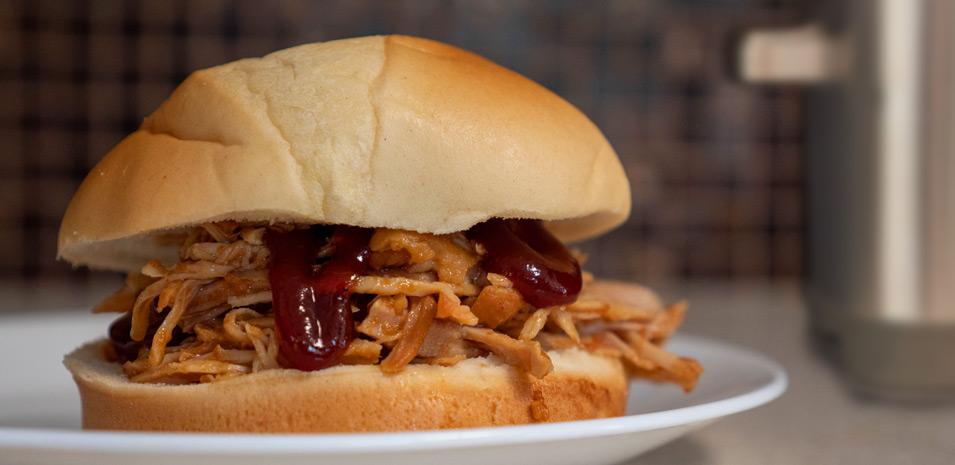 Tender Pulled Pork in a Slow Cooker Recipe
Pulled pork is a classic. A staple in American cuisine. A delicious meal loved by many. Pulled pork makes its way to parties, celebrations, backyard barbecues, game days, and more. It's easy to cook, and it's perfect for meal prepping. When cooked in a multi-cooker, like the Wolf Gourmet 7 Qt. Multi-Function Cooker, the pork is tender, moist, and falls apart easily. A multi-cooker saves the moisture and flavor of food, so it's one of the best ways to make pulled pork. Here's a recipe on just how to make pulled pork in a multi-cooker.  
Ingredients
1 onion, finely chopped
3/4 c. ketchup
3 tbsp. tomato paste
1/4 c. apple cider vinegar
1 tsp. paprika
1 tsp. garlic powder
1 tsp. mustard powder
1 tsp. cumin
1 (3- to 4-lb.) pork shoulder, trimmed of excess fat
Kosher salt
Freshly ground black pepper
Directions
Combine onion, ketchup, tomato paste, apple cider vinegar and spices in the bowl of a slow cooker. Season pork shoulder all over with salt and pepper then add to slow cooker, covering it with ketchup mixture. Cover and cook until very tender (the meat should fall apart easily with a fork!), on HIGH for 5 to 6 hours or on LOW for 8 to 10 hours.
Remove pork from slow cooker and transfer to bowl. Shred with two forks and toss with juices from the slow cooker. Serve on buns with coleslaw.
Feel free to mix and match any of these ingredients to make your own pulled pork your way. Either way, cooking your pork in a slow cooker will be a life saving move on your part. If you're in a hurry, try cooking it in a pressure cooker instead. And no, there is no reason to fear using a pressure cooker. Read our blog post that highlights everything you need to know about a pressure cooker.
If you're feeling inspired, check out our online store for other products that will make you a cooking pro.