I love chineese food but my homemade attempts at cooking are not particularly tasty so I usually break down and just order from the local chiness resturnat. I did not mind this method but I still had the desire to make some on my own. My attempts had been futual until I found this pasta sauce blend. Call it cheating if you would like but this is a very easy tasty method of making great Chasew chicken.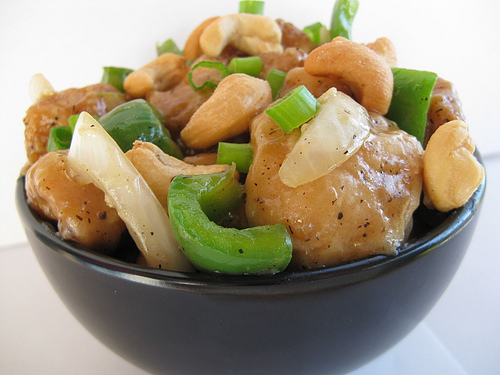 Ingredients:
4, boneless, chicken breasts

¾ cup of Vegetable oil

2 cups raw cashews

1 cups red bell pepper

3 cups roughly chopped onions

3 cups roughly chopped mushrooms

Pasta Partners Oriental Cashew chicken
1. Cube the chicken.
2. Grill the chicken – add oil to a skillet and on medium heat, sear then cook for approx 10 minutes each side.
3. Combine chicken, mushrooms, onions, cashews, bell pepper in a skillet and sauté until tender.
4. Serve on Rice or Lo mein